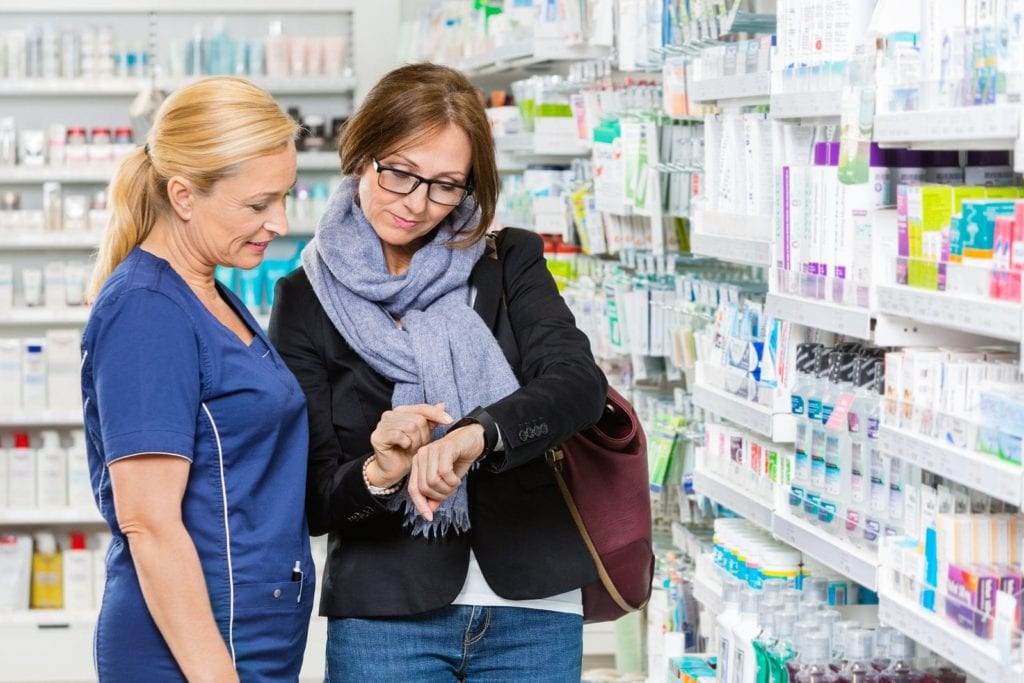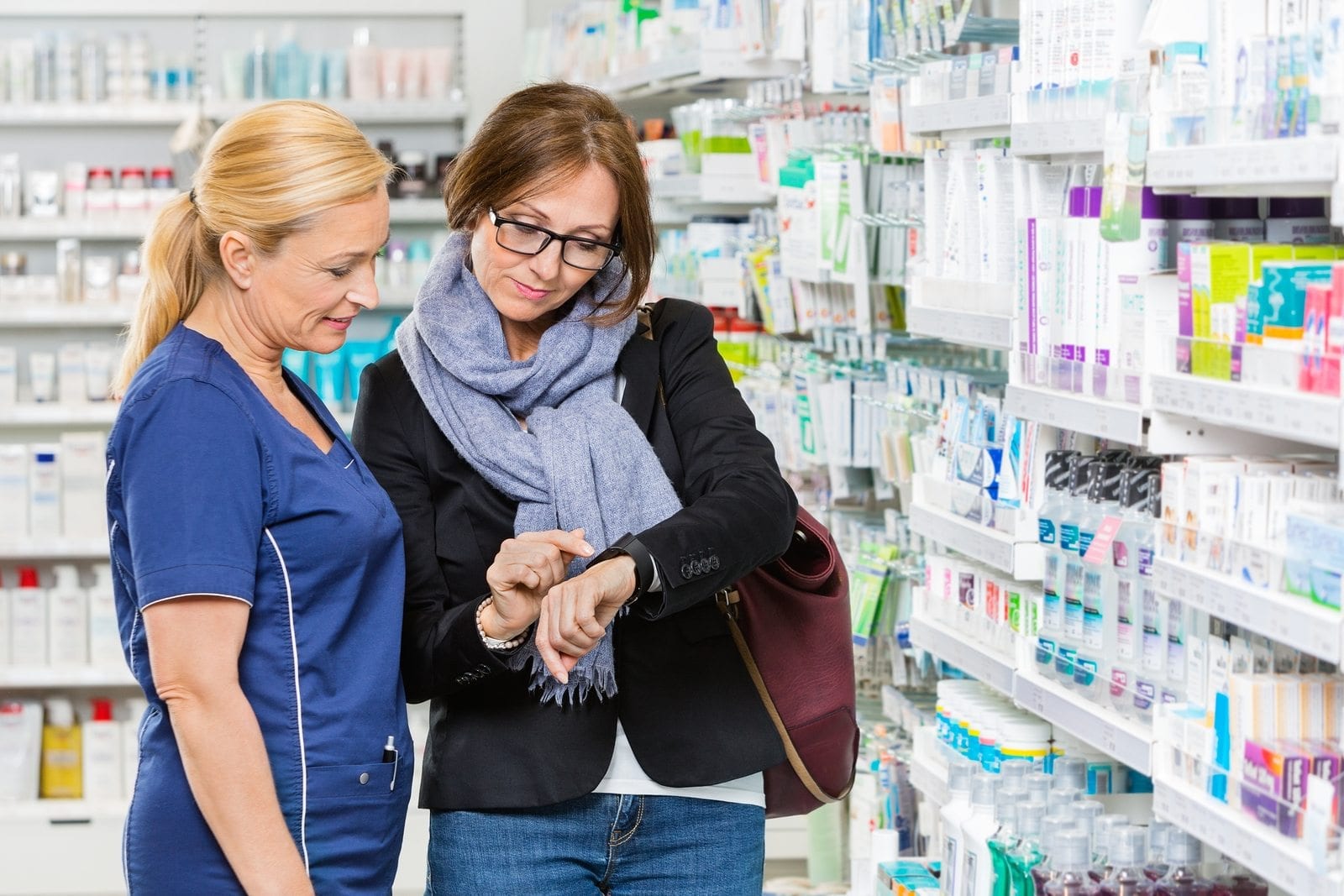 Pharmacy technicians support licensed pharmacists by dispensing medications and other health-related products to patients. Their training in the areas of pharmacology, pharmaceutical calculations, drugs and their effects on the body, inventory management, reading and interpreting prescriptions, packaging and labeling products, drug dispensing and customer service prepare them to become capable assistants to pharmacists who need the freedom to stay on top of with new medications released in the market and counsel patients. Graduates of a pharmacy technician program must register as a pharmacy technician in Arizona before practicing. A technician who has completed and passed the Pharmacy Technician Certification Board (PTCB) exam may to upgrade their license to Certified Pharmacy Technician. Certified technicians may earn more than those who are not certified by a national accrediting agency. Pharmacy technicians work in retail and institutional pharmacies, home health settings, long-term care, mail order pharmacies, and pharmaceutical wholesale companies.
Pima Community College
The pharmacy technician certificate program at PIMA Community College prepares students to work as a pharmacy technician assisting a pharmacist. The curriculum includes training in a classroom, laboratory, and clinical setting. Students must complete the program prerequisites with a grade of C or better before proceeding to the next courses in the sequence. Program prerequisites include reading assessment, math assessment, and writing assessment. General education requirements include Communication and Analysis and Critical Thinking. Core courses include introduction to pharmacy technology, drug therapy, pharmaceutical calculations, pharmacy operations, computer applications for pharmacy, sterile products, inter-professional relations in pharmacy, pharmacy law and ethics, pharmacy technician internship and a clinical seminar. Graduation requirements for the certificate program are 44 credits. Graduates have the option to continue taking classes towards an AAS Pharmacy Technology degree. To earn the associate's degree, students must complete 62 to 72 credits.
Admission criteria:
Submit a Pharmacy Technology application – available online
Complete the reading and math prerequisites with a grade C or better– REA 091 or higher and MAT 092 or higher
Complete a satisfactory criminal background check
Must have a high school diploma or GED
Tuition for the program is $4,044. Books and supplies cost an additional $4,000.
Website: https://pima.edu/
Address: 4905 E. Broadway Blvd., Tucson, AZ   85709-1010
Phone: (520) 206-4500
Toll-free: 1-800-860-PIMA
PIMA Medical Institute
The pharmacy technician program at PIMA Medical Institute equips students with the skills to enter the health care world. Graduates are prepared to work in a retail pharmacy, home health care setting, hospital pharmacy, mail order pharmacy, or pharmaceutical wholesaler industry. The training also prepares students for success on the national exam to become a certified pharmacy technician. Areas of study include anatomy and physiology, computer basics, math fundamentals, CPR and First Aid, pharmacy math, pharmacology, pharmacy law and ethics, inventory maintenance, pharmacology, pharmacy technician duties, principles of customer service, fundamentals of chemistry, and pharmacy externship. Students complete a total of 840 contact hours in the classroom, lab, and clinical setting and earn a total of 35.5 credits at the program's completion. Students have the option to become IV certified as a part of the training. The duration of the day class is 35 weeks and the evening class is 40 weeks.
Admission criteria:
Submit an application for admission
Provide proof of high school verification – a high school diploma, high school transcript, GED, official academic transcript
Must be able to speak and write English
Must meet the minimum score on the entrance exam – Wonderlic SLE
Submit to a background check and drug screen
Tuition for the program is $16,551. It includes textbooks, lab supplies, technology fee, and uniforms.
Top of Form
Website: https://pmi.edu/
Address: 3350 E. Grant Road, Tucson, AZ 85716
Phone: 800-477-PIMA
Carrington College
The pharmacy technician program at Carrington College provides theory and practical training to enable students to function as a competent entry-level assistant to a registered pharmacist. The coursework includes training in drug distribution systems, pharmacy calculations, chemical and physical characteristics of drugs, preparation of sterile dosage forms, pharmacology, pharmacy medical terminology, dispensing and documenting medications, and abbreviations and symbols. The curriculum also covers ethics and laws in pharmacy practice and drug distribution methods. Graduates earn a Certificate of Achievement and are eligible to enroll in the Associate of Science degree program in pharmacy technology. A clinical externship at an approved healthcare facility provides students with real-world experience that will prove valuable in the search for employment. The final module of the program includes preparation for the CPhT national certification exam. Graduation requirements for the Certificate program are 36 credits and 60 credits for the AAS degree.
Admission criteria:
Must have a high school diploma or GED
Must be at least 18 years of age
Provide proof of immunization
Take and pass the Wonderlic SLE with a minimum score of 13
Pass a criminal background check and drug screen
Tuition for the program is $15,093 plus $545 for books and fees.
Brookline College
The pharmacy technician program at Brookline College prepares students for entry-level employment as a pharmacy technician. The curriculum includes instruction in pharmacology, concepts in health care, the administrative aspects of pharmacy, pharmacy operations, pharmacodynamics, pharmacokinetics, and pharmacy practicum. The curriculum covers 280 lecture hours, 280 lab hours and 160 practicum hours for a total of 720 hours. The pharmacy externship provides students with first-hand experience where they will work with pharmacy technicians and other healthcare personnel. Training opportunities are available at Walgreens Pharmacies and Fry's Food Stores Pharmacy. Graduates earn 27.5 credit hours and are eligible to apply for the national certification exam. The duration of the program is 34 weeks for full-time students. Part-time (evening) students complete the program in 39 weeks.
Admission criteria:
Must have a high school diploma or GED
Must pass a Scholastic Level Exam
Complete a background check
Tuition for the program is $15,225. Brookline will reimburse the exam costs to students who earn a passing grade in the exam.
Website: https://www.brooklinecollege.edu/
Address: 5441 E. 22nd Street, Suite 125, Tucson, AZ 85711-5444
Phone: (520) 748-9799
Fax: (520) 748-9355
Toll Free: 1-888-292-2428
Arizona College of Allied Health
Arizona College of Allied Health provides a comprehensive program to prepare students for a career a pharmacy technician. The program is accredited by the ASHP and includes opportunities for real-world practice. There will be an emphasis on pharmacology, medical terminology, drug abbreviations, and drug prescriptions, training in pharmacy management software, and practical training on-site and during the pharmacy externship. Students also benefit from open lab and tutoring, peer mentoring, flexible schedules, accelerated training options, and job placement assistance. The curriculum covers 736 contact hours or 52.0 credit hours. The Schedule of Courses includes Pharmacology, Health and Wellness with Blister Packaging, Sterile Preparations, Pharmacy Law and Ethics, Pharmacy Calculations, Data Entry Systems & Third Party Billing, Retail Pharmacy Systems, Inventory Systems & Sterile Compounding, and Technology and Special Topics. Healthcare Fundamentals and Professional Studies include Career Development, Medical Administrative Practices, The Body as a Whole, The Body's Circulation & Defense, and Medical Terminology. The duration of the program is 34 weeks.
Admission criteria:
Secure admission to Arizona College
Provide documentation of completing high school or GED
Complete the enrollment agreement
Complete a satisfactory background check
Pass a urine drug screen
Tuition for the program is $15,816. It does not include registration, shoes, uniforms, and a watch with a second hand. Other costs include fingerprint clearance, drug screen, HESI testing, student liability insurance, background clearance, and immunizations.