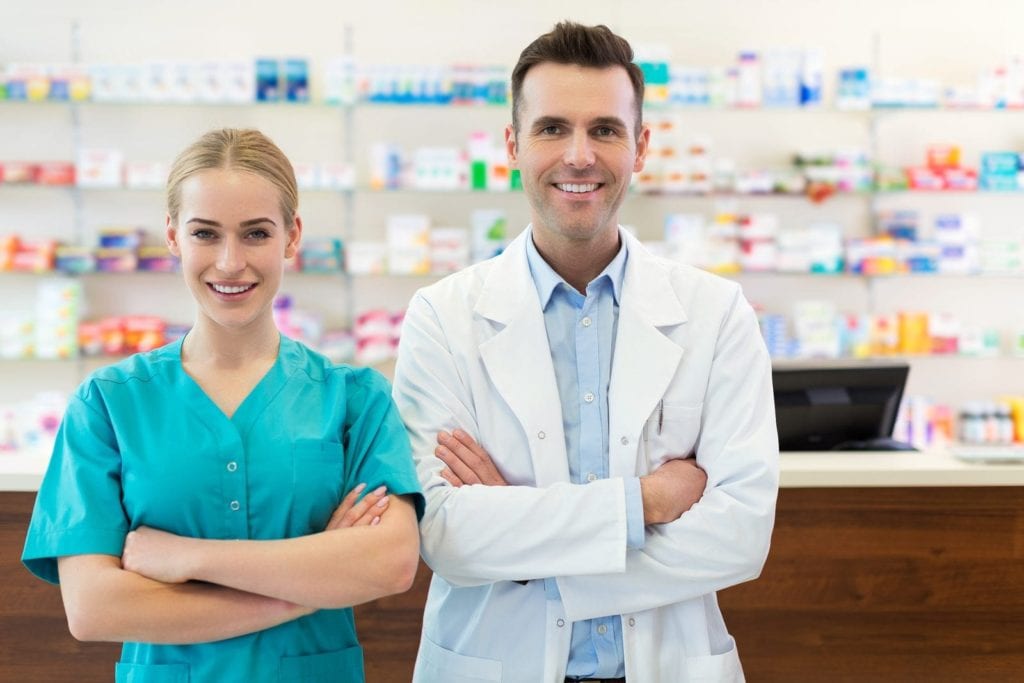 A pharmacy technician assists pharmacists in the daily operations within an institutional, community, or mail-order pharmacy. Working under the supervision of a pharmacist, the technician supplies patients with prescriptive products and pharmaceuticals for the treatment of disease. Pharmacists today must stay on top of new medications, their uses and effects on the body, and take a greater consultant role to physicians and patients. By taking on the routine day-to-day duties in the pharmacy, the technician becomes a vital asset in the overall treatment of the patient. The duties of the pharmacy technician is largely affected by the work setting, but common duties include processing prescriptions, compounding medications, maintaining inventory, processing orders, updating patient profiles, and billing and administration. A well-trained and certified pharmacy technician is a valuable asset in home health care pharmacies, industrial clinics, governmental pharmacies, extended care facilities, correctional facilities, and home infusion pharmacies. The US Department of Labor Statistics projects a positive job outlook for pharmacy technicians in response to a rise in the need for medication from the aging population. Remuneration and benefits for technicians depend on the type of setting, certification, location, experience, and level of education.
SJVC
SJVC's Pharmacy Technology program prepares students for employment in a pharmacy setting under the supervision of a registered pharmacist. Graduates are able to process pharmaceutical orders and attend to the daily duties in the pharmacy. The curriculum includes instruction in pharmacology, pharmacy law and ethics, pharmacy science, computer date entry, clinical applications, and processing prescriptions. Graduates will earn a certificate of completion at the conclusion of the 7-month program. They also have an option to complete additional courses and earn an associate of science degree with an extra 7 months of study. Associate of Science degree graduates can register as a Licensed Pharmacy Technician with the California State Board of Pharmacy and will earn Health Insurance Portability and Accountability Act (HIPAA) Certification. They may also take a national exam to become a Certified Pharmacy Technician (CPhT). Tuition for the program is $17,125. Books and supplies cost $125. The Associate's degree option costs $30,175.
Institute of Technology
The Institute of Technology prepares pharmacy technician students to serve on the front lines of patient care in a pharmacy setting. The diploma program includes all the training students need to work under the supervision of a registered pharmacist. The curriculum covers knowledge and practical experiences in the areas of customer service, pharmacy technology and law, preparing medications, packaging medications, ordering medications, and stocking and receiving medications. It includes 860 instruction hours, which amount to 47.5-quarter credit hours. Classes meet Monday through Thursday for 40 weeks. It includes a component for independent study. Graduates are eligible to sit the PTCB exam and work as a Pharmacy Aid, Pharmacy Clerk or Registered Pharmacy Technician in community or institutional pharmacies. Tuition for the program is $17,665 and includes a personal lab coat and supplies and PTCB exam fee.
Abrams College
The pharmacy technician program at Abrams College prepares students for practice in a pharmacy environment in just 14 weeks. The curriculum covers training in medical terminology, pharmacology, dosage calculation, generic and brand name drugs, dispensing prescriptions, inventory control, pharmacy billing system, dose conversions, aseptic techniques, communication, and customer service. Students attend classes 3 times a week for the first 7 weeks and one class per week for the final seven. Each session lasts approximately 4.5 hours. Class times are 6:30 pm to 10:50 pm. Applicants must be 18 years or older, have a high school diploma or GED, be a legal US resident or citizen, and have no felony convictions or drug-related convictions or sex crimes. Tuition for the program is $2,450.
Modesto Junior College
Modesto Junior College offers a comprehensive pharmacy technician program that prepares students for entry-level employment. The curriculum covers a total of 694 instructional hours: 294 hours in the classroom and lab and 340 hours of supervised externship at various pharmacies. Classes meet Tuesday, Wednesday and Thursday evenings, giving working professionals the opportunity to train for a new career. Applicants must complete and return the program application, pass a math test and reading assessment, and pass a criminal background check and drug screen to participate in the pharmacy externship. The prerequisite course, anatomy and physiology must be completed before commencing the program. Tuition for the program is $6,363 and includes textbooks, lab materials, uniform, drug screen, liability insurance, background check, PTCB exam fee, and NPTA membership.
Carrington College
The pharmacy technician program at Carrington College includes both theory and practical training to develop competent entry-level assistants to licensed pharmacists. The curriculum includes formal classroom training in pharmacology, dose conversion, dosage calculations, pharmacy terminology, generic and brand name drugs, reading and interpreting prescriptions, dispensing prescriptions, pharmacy billing systems, and inventory management. Other areas of technical study include drug distribution systems, chemical and physical characteristics of drugs, preparing sterile dosage forms, abbreviations and symbols, and standards of ethics and laws. The training will also include a valuable real-world experience through a pharmacy externship at an affiliate pharmacy. Students have the option to enroll in the certificate program or the Associate of Science degree. The Associate of Science degree requires general education coursework in English composition, mathematics, computer literacy, science, and social science. Tuition for the certificate program is $17,562 plus $1,015 for books and supplies. Tuition for the Associate's degree is $26,466 plus $1,655 for books and supplies.