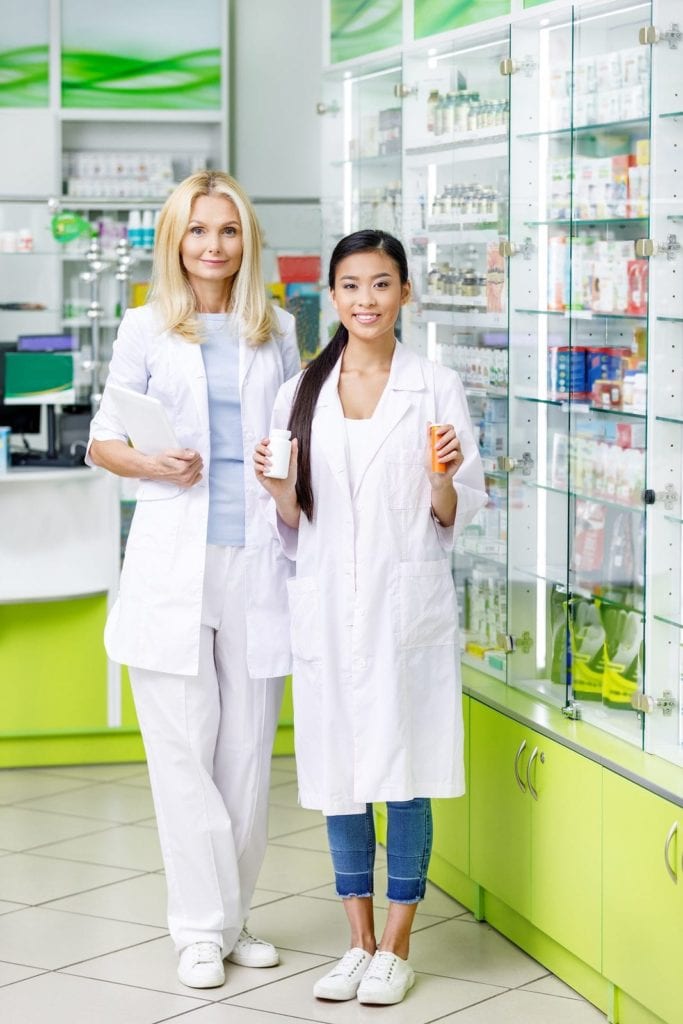 Pharmacy technician programs prepare students with the knowledge and skills to fill prescriptions under the direction of a licensed pharmacist. Graduates are qualified to sit and pass the Pharmacy Technician Certification Board to become a CPhT and work in hospitals, drug stores, retail stores, and mail-order pharmacies. Their duties will include maintaining patient profiles and histories, receiving and preparing prescriptions, answering phones, preparing insurance claims, conducting cash register transactions, and managing the inventory of medications. In a hospital pharmacy, technicians will deliver medications or pharmaceutical supplies to patients, surgery, or nursing stations. The growing need for pharmacy technicians ensures that graduates have an excellent chance of getting a job. The Bureau of Labor Statistics projects opportunities for pharmacy technicians to grow 12% nationally between 2016 and 2026.  Growth in the profession is likely due to an increase in the use of prescription medications by the aging population, higher rates of chronic illnesses, and wider production of prescription medications.
Spokane Community College
The Pharmacy Technician program at Spokane Community College covers all phases of the pharmacy field to prepare students for employment in community and hospital pharmacy settings. Core topics include dispensing techniques, drug products, dosages, inventory management, calculations, and pharmacy law. Students must complete each course with a grade 2.0 or better before progressing to the next quarter. The option to complete liberal arts before of following the professional curriculum is open to all students. To earn the associate in applied science degree, students must complete 25 credit hours of required courses and 7 hours of electives in addition to the professional curriculum. At the conclusion of the program, students will be able to demonstrate accountability as a health care professional, calculate dosages and other problems presented by the pharmacist, prepare physicians' orders for dispensing, and understand the legal requirements that govern practice. Graduates will also understand their role in the pharmacy, maintain patient confidentiality, and demonstrate the standards of aseptic techniques.
Admission criteria:
A high school diploma or GED
Complete a Washington State Patrol (WSP) background check
Take and complete a typing test with a score of 35 to 40 wpm.
Schedule and attend an interview with the instructor
Submit three letters of recommendation
Obtain an acceptable ALEKS math score
English proficiency
For the background check, the student must provide a name and email address and driver's license and social security number. The cost of the background check is $39. Tuition for the 1-year program is $4,348. Books and supplies cost an additional $500.
Website:  https://scc.spokane.edu/
Address: 1810 N Greene St., Spokane, WA 99217-5399
Phone: 509-533-7000
Toll-free: 800-248-5644
Carrington College – Spokane Campus
The pharmacy technology program at Carrington College includes both theory and practical training to enable students to function as competent assistants to a licensed pharmacist. The curriculum covers the basics of drug distribution systems, pharmacy calculations, chemical and physical characteristics of drugs, medical terminology, maintaining patient histories, dispensing and documenting medications, and abbreviations and symbols used in prescribing. At the conclusion of the program, students will earn a Certificate of Achievement or Associate of Science degree and will be prepared to sit the Certified Pharmacy Technician national certification exam. Entrance to the AAS degree requires a Certificate in Pharmacy Technician from a program accredited by the American Society of Health-System Pharmacists (ASHP).
The certificate program may be completed in 36 weeks and covers 375 lecture hours, 225 lab hours, and 240 practical hours. The AAS degree requires completion of 735 lecture hours, 225 lab hours, and 240 practical hours. Course topics include retail operations lab, prescription processing, compounding and pharmacy calculations, unit dose lab, hospital operations and parenteral dosage, career development seminar, body systems, and repackaging theory.
Admission criteria:
A high school diploma or GED
Criminal background screen
Pass the Wonderlic Scholastic Level Exam (SLE) with a score of 13 or higher
Attend an interview with an admission representative
Tuition for the program is $14,372. Books and supplies cost an additional $655.
Address: 10102 E. Knox Ave., Suite 200, Spokane, WA 99206
Phone: 509-378-3628