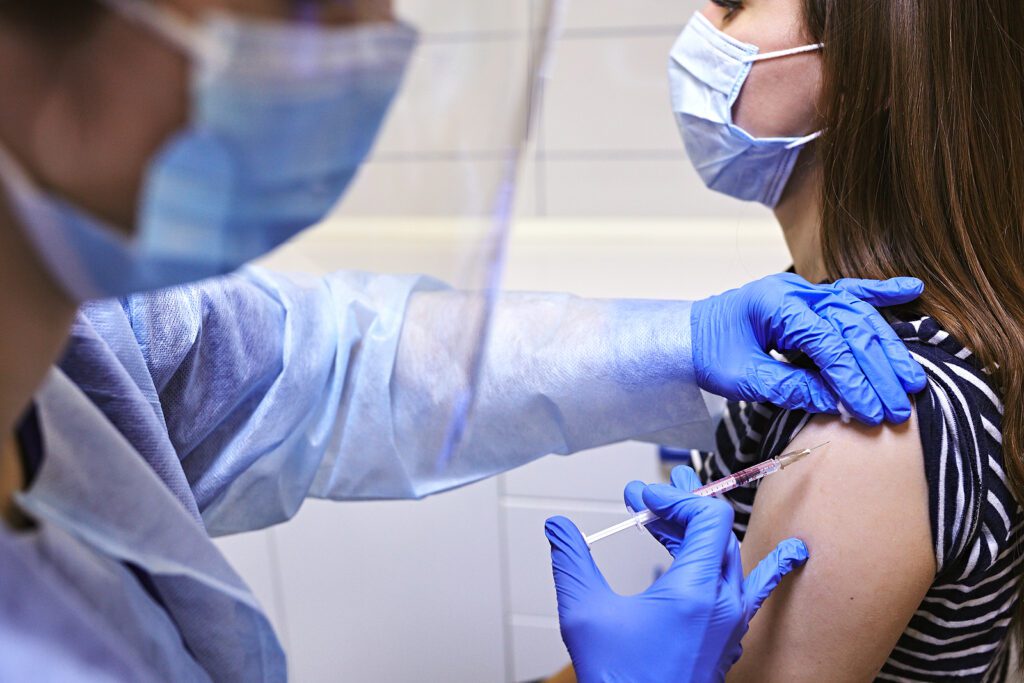 A career as a pharmacy technician is one of many pathways to employment in the healthcare sector. If you prefer customer service to patient care and are detailed oriented, then pharmacy technician training may be right for you. As a technician, you will work under the direction of a licensed pharmacist to receive, verify and fill prescriptions. You will also manage the day-to-day operations of the pharmacy, attend to customer service issues, procure stock, manage billing, and update patient records. There is a growing demand for pharmacy technicians in light of the ongoing shortage of licensed pharmacists and the nationwide demand for prescription medications.  Pharmacy technicians earned a median annual salary of $36,740 per year in 2021 according to the United States Bureau of Labor Statistics.
GateWay Community College
The pharmacy technician program at GateWay Community College prepares students to work in retail, call centers, hospitals, and pharmacies. Students will acquire entry-level pharmacy operation skills and procedures along with interpersonal skills and regulatory standards that govern the pharmacy and pharmacy technician. Classroom instruction will cover patient medication safety, receiving and filling prescriptions, billing, procurement, inventory management, reimbursement, and pharmacy software. Upon completion of the classroom requirements, students will participate in a 250-hour externship at a clinical partner site to develop technical skills and gain real-world experience. The program requires completion of 720 hours in total. The duration is 8 months. Graduates will receive a Certificate of Completion and will be eligible to take the PTCB exam to become a Certified Pharmacy Technician.
Admission criteria:
Must be 18 years of age to enroll
Must attend a virtual pre-enrollment session
Must complete the background check requirements – students must be in compliance with the Maricopa County Community College District Background Check Standards
Must meet the clinical health and safety requirements according to the MCCD Clinical Health and Safety Policy
Must obtain a temporary Pharmacy Technician Trainee license to participate in the apprenticeship
The estimated program cost is $3,380. A separate registration fee of $15 will be charged per academic year.
Website: https://www.gatewaycc.edu/
Address: 108 North 40th Street, Phoenix, AZ 85034
Phone: (602) 286-8000
Brookline College
The Pharmacy Technician program at Brookline College prepares students for employment in the field of pharmacy. The highly comprehensive and well-rounded curriculum ensures students' success in their career. Modern classrooms, virtual reality training, and simulation labs all work together to ensure students learn the concepts and apply their knowledge in scenarios that they would face in a live pharmacy environment. Course topics include pharmacy operations, pharmacology, body systems, pharmaceutical calculations, body systems, pharmacy administration and applications, and foundations of allied health. Students will complete 646 contact hours or 27.5 credit hours to earn a Pharmacy Technician Diploma. They will participate in a 160-hour pharmacy practicum at the conclusion of the residential requirements. Some of the coursework may be delivered online. The duration of the program is 34 weeks.
Admission criteria:
Must attend a live or virtual planning session with an Admissions Representative
Must apply for the AZ DPS Fingerprint Clearance Card
Must apply for the AZ Technician Trainee License
Must take and pass the required program testing requirements
Complete an application for admissions
Complete the Enrollment Agreement with an Admissions Representative
Must be a citizen of the United States or eligible non-citizen
Must be at least 18 years of at the time of admission
Must possess a high school diploma or GED equivalent
Tuition for the program is $13,365.
Website: https://www.brooklinecollege.edu/
Address: 1140 S. Priest Drive, Tempe, AZ 85281
Phone: 888-793-0557
Arizona College of Nursing
The Pharmacy Technician Program at Arizona College of Nursing offers flexible scheduling, open lab and tutoring sessions, peer mentoring program access, and job placement assistance to prepare students for success in the field. The rigorous curriculum has a strong emphasis on classroom education combined with an off-site externship upon completion of the residential requirements. Course topics include pharmacology, health and wellness, sterile preparations, pharmacy law and ethics, pharmacy calculations, data entry systems, retail pharmacy systems, inventory systems and non-sterile compounding, technology and special topics, data entry and third-party billing, IV basics, pharmacy law and ethics. Other required courses include microcomputer concepts and keyboarding, career development, medical terminology, the body's circulation and defense, the body as a whole, and medical administrative practices. Students must complete 772 clock hours (50 credit hours) including a 160-hour externship to graduate from the program. The program is accredited by the ASHP. Graduates are eligible to apply to take the PTCB to become a certified pharmacy technician. The duration of the program is 34 weeks. Accelerated morning and evening schedules are available for those who want to finish the coursework in a shorter time. New classes begin every five weeks.
Admission criteria:
Must have a high school diploma or GED
Must be 18 years old to enroll
Must apply for the AZ DPS Fingerprint Clearance Card
Must apply for the AZ Technician Trainee License
Must be a US citizen or eligible non-citizen
Complete the enrollment agreement/financial arrangements
Tuition costs $16,074. The registration fee is $25. Students must also purchase non-porous shoes and a watch with a second hand. Other costs include fingerprint clearance, physical exam and immunizations, drug screen, background clearance, textbooks, uniforms, and lab supplies. Financial aid is available to qualifying students.
Website: https://www.arizonacollege.edu/
Address: 2510 W Dunlap Ave, Suite 290, Phoenix, AZ 85021
Phone: (855) 706-8382
Email: contact@arizonacollege.edu