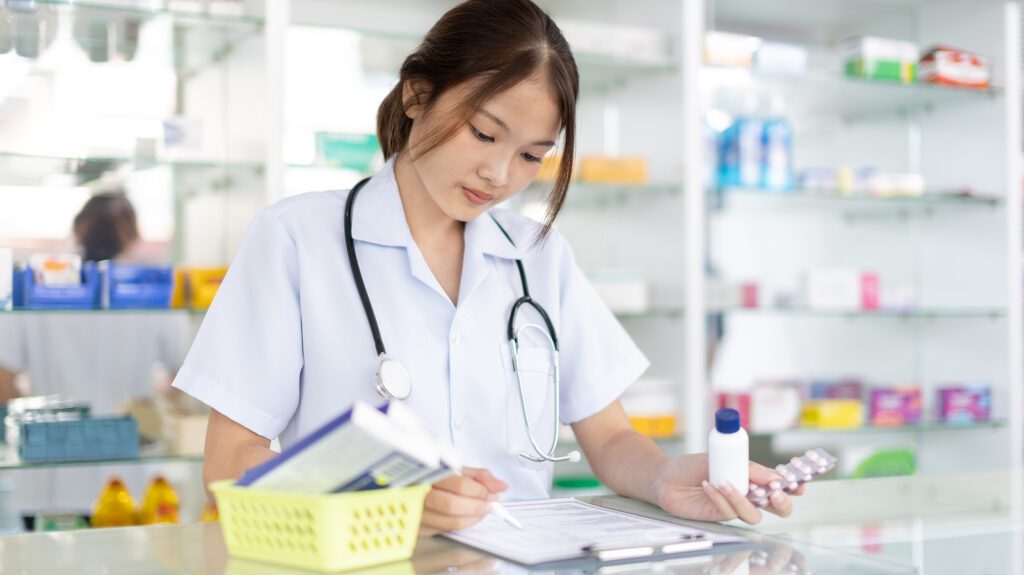 Pharmacy technicians have an extensive and critical role in the delivery of prescription drugs and other health care products in community and institutional pharmacies. Their role and responsibilities are governed by state and federal laws and the discretion of the pharmacist. Duties include but are not limited to receiving and interpreting prescriptions, preparing prescription orders for review by the pharmacist, answering customer questions related to medications, managing billing and insurance claims, updating the patient database, and managing inventory of medications. The demand for capable and certified pharmacy technicians is one of many reasons to join the work. Online pharmacy technician programs will help you to prepare for entry-level employment and success on a national pharmacy technician certification exam. The instruction, though offered online, includes a vital pharmacy technician externship to ease the transition from online study to a real-world pharmacy.
Mayo Clinic
The hybrid/online pharmacy technician program offered by Mayo Clinic focuses solely on the skills students need to function in the role of the pharmacy technician. The online learning is combined with in-person simulation coursework and rotations. The flexible and accessible schedule is designed to fit with student's schedules enabling them to fulfill their educational aspirations without major adjustments. The first three months of coursework will be completed online with some in-person lab education. The final two months will cover clinical rotations. Hands-on activities in the state-of-the-art pharmacy simulation labs prepare students for success in the pharmacy externship. The curriculum will cover a total of 602 contact hours. Courses covered at Introduction to Pharmacy, Pharmacology for technicians, Career Development, Principles of Pharmacy Operations. Pharmacy Simulation lab, and Pharmacy Experiential Rotation I and II. Graduates will be eligible to take the PTCE to become a Certified Pharmacy Technician. They may be eligible to join Mayo Clinic's workforce as pharmacy technicians. The program admits new students twice per year. The class size is limited to 21 students for each cycle
Admission criteria:
Must be a high school graduate or possess a high school equivalency certificate
Must be 18 years or older by the program start date
Must successfully pass a state and national background check
Provide two references from professional sources
Provide proof of US citizenship or permanent resident status
Demonstrate English language proficiency (reading, writing, and speaking)
Must be able to follow written and verbal directions
Must demonstrate math proficiency to fulfill the requirements of the pharmacy technician job responsibilities
Must have basic computer competence and keyboarding skills
Obtain registration as a Pharmacy Technician Trainee
Submit an application to the program online
Provide a personalized statement of no more than 500 words and upload with the Supplemental Items section
The program cost of $392 includes free tuition, background check, pharmacy technician certification exam, books, supplies, and uniforms. Other costs include the Arizona State Board of Pharmacy licensure of $60. Students will receive a competitive stipend of $3,500 paid in biweekly installments over the final eight weeks of the program.
Arizona's Virtual Pharmacy Tech School
The pharmacy technician program at Arizona Virtual Pharmacy Tech School comprises of three blocks that lets students master core concepts. The program is offered fully online with in-person externships at local pharmacies. Instructional modules are designed in such a way to identify a student's progress by highlighting areas that need improvement. Modules such as medical terminology and pharmacy calculations utilize real-world problems to help students develop a deeper understanding. The school uses Learning Management System – one of the best on the market – that has a user-friendly interface. Access is available through an app or the website. The pharmacy technician externship prepares students for transition from the online classroom to the clinical practice. Course topics include pharmacy laws, pharmacy tech role and responsibilities, human body systems, common medical drugs, pharmacy calculations, interpreting and filling prescriptions, external and parenteral formulations, sterile compounding, intravenous preparation, advanced flow rate calculations, pharmaceuticals and factors that affect drug activity, drug inventory management, and pharmacy technician review for the PTCB exam. The program is accredited by the PTCB, so graduates are eligible to sit for the pharmacy technician certification exam. The duration of the program is 21 weeks.
Admission criteria:
Must be 18 years of age or older
Must have a high school diploma or GED equivalent
Must be able to pass a criminal background check or obtain a Fingerprint Clearance Card
Must be able to meet the sites' Health and Safety Requirements to attend the externship
Must have a computer with access to the internet
Submit a completed application online
Tuition costs $3,000. It includes books and supplies, license and certification, and health and safety requirements.
Arizona Western College Continuing Education
The online pharmacy technician program at Arizona Western College – Continuing Education prepares students for a fulfilling career in the field. They will acquire knowledge and skills to qualify for entry-level positions in pharmacies and be prepared for national certification. The extensive curriculum will cover pharmaceutical terminology, basic anatomy related to pharmacology, stock taking, packaging and preparing medications, pharmaceutical calculations, retail pharmacy procedures, processing prescription orders, and preparation for the PTCB exam. Other areas of study include processing insurance billing and collecting payments, communicating successfully with patients and medical professionals, HIPAA requirements and their application to pharmacy, federal and state laws that govern pharmacy, and hospital pharmacy operations. The pharmacy externship will provide students with a critical leg up in the job market as they will practice the skills learned in a real-world pharmacy. Externs will assist pharmacists with prescriptions, answer patient questions about medications, and perform administrative duties. The externship will cover 100+ hours and will be conducted at a local CVS pharmacy. Graduates will be eligible to take the PTCB exam – a voucher that covers the fee is included in the program cost.
Admission criteria:
Must be 18 years of age or older
Must have a high school diploma or GED equivalent
Must be able to pass a criminal background check or obtain a Fingerprint Clearance Card
Must have a computer with access to the internet
Submit a completed application online
Must successfully pass a drug screen
Must meet the immunization standards
Must have professional liability insurance
Tuition for the program is $2,495.  It includes textbooks and a voucher for the PTCB exam.
Arizona College
The online/hybrid pharmacy technician program at Arizona College prepares students for a career as a pharmacy technician. The program is accredited by the ASHP and includes theory and practical training in a retail and institutional pharmacy. The curriculum covers 772 contact hours or 50.0 credit hours. Course topics include Pharmacology, Health and Wellness with Blister Packaging, Sterile Preparations, Pharmacy Law and Ethics, Pharmacy Calculations, Data Entry Systems & Third Party Billing, Retail Pharmacy Systems, Inventory Systems & Sterile Compounding, and Technology and Special Topics. Healthcare Fundamentals and Professional Studies include Career Development, Medical Administrative Practices, The Body as a Whole, The Body's Circulation & Defense, and Medical Terminology. The school offers flexible scheduling with new sessions that start every five weeks, a preloaded Windows tablet included in the tuition, accelerated morning and evening classes, and career services employment assistance after graduation. The duration of the program is 8 months.
Admission criteria:
Submit a completed application to Arizona College
Must have a high school diploma or GED
Must be 18 years of age or older
Sign the enrollment agreement and financial agreements
Complete a satisfactory background check
Pass a urine drug screen
Tuition for the program is $16,574. It does not include registration fee, shoes, and a watch with a second hand. Other costs include fingerprint clearance, drug screen, HESI testing, student liability insurance, background clearance, and immunizations.
Carrington College
The blended pharmacy technician certificate program at Carrington College includes modules that may be completed online. Students will attend the lab simulations in-person and complete a pharmacy technician externship at a local pharmacy. The curriculum covers a total of 840 hours including 375 lecture hours, 225 lab hours, and 240 extern hours. Areas of study include Anti-Infectives and Retail Operations Theory, Retail Operations Lab, Pharmacy Software and Pharmacy Calculations Theory, Prescription Processing, Pharmacy Calculations, Body Systems, Repackaging Theory, Unit Dose Lab, Compounding and Pharmacy Calculations Lab, Hospital Operations and Parenteral Dosage Calculations Lab, Career Development Seminar, and Pharmacy Externship. Graduates will be prepared to take the PTCB exam for certification as a pharmacy technician. The duration of the program is 34 weeks.
Admission criteria:
Must have completed high school or GED equivalent  – official transcript required
Submit an application for admission
Must be at least 18 years of age
Take and pass the Wonderlic Scholastic Level Exam with a score of 13 or above
Attend an interview with an enrollment representative
Provide a written statement explaining the choice of career
Must be in good physical and mental health
Pass a background check and drug screen
The program cost of $17,542 includes tuition, textbooks, and uniforms.