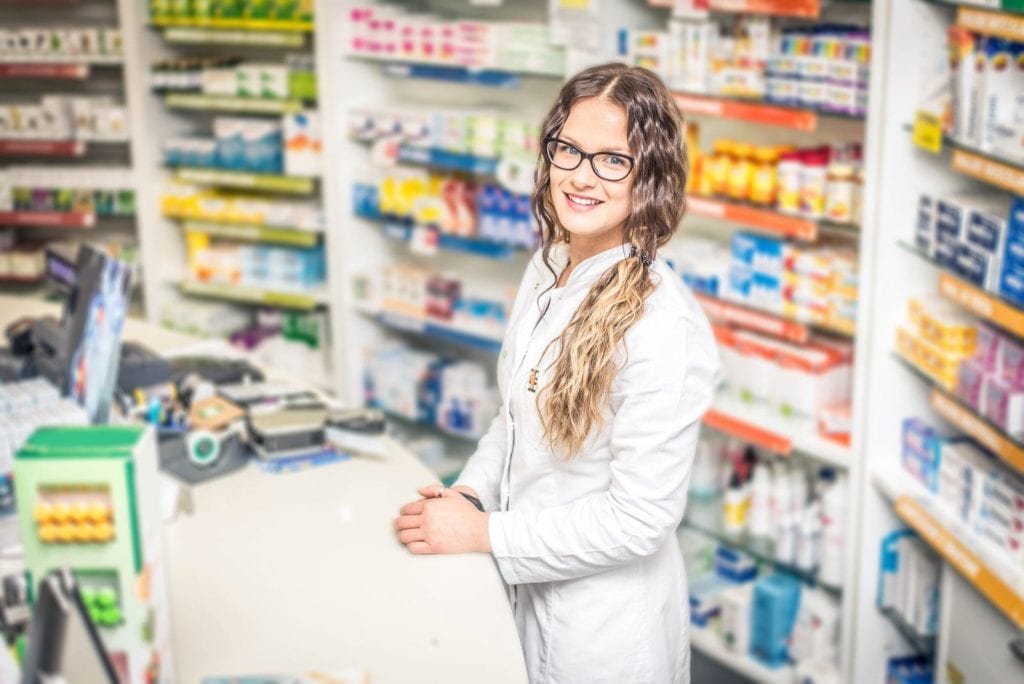 Pharmacy technicians provide vital support to both pharmacists and patients. Online pharmacy technician programs are a fast and convenient way to prepare for the role of a pharmacy technician in retail and institutional pharmacies. Like traditional, on-campus programs, they supply up-to-date training, hands-on practice through the use of virtual simulators, pharmacy externships at community and institutional pharmacies, supportive faculty, and preparation for success on the Pharmacy Technician Certification Board exam.
College of Lake County
The online pharmacy technician program at the College of Lake County provides a convenient yet comprehensive education for adults seeking to prepare for employment as a pharmacy technician. The program holds ASHP Candidate status and is designed to be completed in 11 months. The curriculum includes theory (delivered in the classroom or online), on-campus lab sessions, and clinical rotations. Clinical rotations are conducted in the third term in hospital and community retail pharmacies. Students will complete a 2-week rotation in both clinical environments. Course topics include college success seminar, pharmacy practice and operations for technicians, medical terminology, pharmacy calculations for pharmacy technicians, pharmacy lad and simulation, pharmacy law and ethics, pharmacy rotation community, and pharmacy rotation hospital. The program comprises a total of 22 credit hours. Students must pass all courses in the program curriculum with a minimum grade C and maintain a GPA of 2.0 to progress through the program. Graduates are eligible to apply to sit for the national PTCB exam.
Admission criteria:
Must apply for admission to CLC
Must have a high school diploma or GED
Must be at least 18 years old
Must submit to a background check – applicants must have never been convicted of a felony or had a health license/registration revoked or disciplined
Must meet College Algebra and College Reading and Writing Readiness requirements
Must have current immunization requirements
The estimated program cost of $4,178 is for in-district students and does not include books and supplies. The program is eligible for funding through the Workforce Innovation & Opportunity Act (WICA).
Chicago State University
The online pharmacy technician program at Chicago State University prepares adults for entry-level employment in the health care industry. Students will acquire knowledge and skills to assist pharmacists in retail and institutional pharmacies. They will learn federal and state laws, interpreting physician orders and prescriptions, techniques required to order, stock, package, prepare and distribute medications, pharmacology of medications in relation to the anatomy affected, medical and pharmaceutical terms and medical abbreviations, process insurance billing and collecting payments, communicating with patients and medical professionals, and HIPAA requirements and their application to pharmacy. Hands-on training will be offered through an online lab module. Upon successful completion of the course, students will receive access to the PTCE practice tests to study for the certification exam. They will also have the option to participate in a pharmacy externship (100+ hours) at a community pharmacy.
Admission criteria:
There are no prerequisites for admission
Students must have a computer and reliable internet connection
Must be proficient in keyboarding (approximately 35 words per minute)
Should have a basic understanding of high school math including percentages and proportions at the algebra level
A background check will be required to participate in the pharmacy externship
The program cost of $2,499 includes access for one year and textbooks (hard copy and ebooks).
Address: 9501 South King Drive, JDC 201, Chicago, IL 60628 US
Phone: 773-995-2000
Prairie State College
Prairie State College's Pharmacy Technician program prepares students for entry into the field of pharmacy. They will acquire the skills and competencies to dispense medications under the supervision of a registered pharmacist. The curriculum delivers 50 hours of coursework including medical terminology, IV flow rates, dosage calculations, defining drugs by generic and brand name, drug compounding, reading and interpreting prescriptions, inventory control, dispensing of prescriptions, dose conversions, and billing and reimbursement. Some of the coursework may be delivered online. Graduates may be eligible to sit for the PTCB exam. The duration of the program is 10 weeks.
Admission criteria:
Submit an enrollment application online
Attend an orientation session
Take the placement test or submit SAT or ACT scores
Send official high school transcripts or HSE to the Enrollment Services Office
Register and pay for the course
Tuition costs $1,459. It does not include the cost of the PTCB exam, background check, or licensing fees. The Pharmacy Technician Program is approved for WIOA funding for eligible individuals.
Malcolm X College
Malcolm X College offers an Advanced Certificate in pharmacy technology to train students for employment in community, hospital, and other pharmacy settings. The program requires completion of 37 credit hours.  Course modules include Introduction to Anatomy and Physiology, Pharmacology Allied Health, Basic Science for Allied Health Personnel, Intro to Pharmacy Technology, Pharmaceutical Calculations, Prescription Professing, Pharmacy Communication, Introduction to Pharmacy Law, and Pharmacy Operations. Required work-based courses include Clinical Practicum I and Clinical Practicum II where students will participate in a pharmacy externship at a community and institutional pharmacy. The program is accredited by the American Society of Health- System Pharmacists. Graduates will be eligible to take the PTCB exam. The duration of the program is three semesters.
Admission criteria:
Submit a special application for entry to the program
Submit proof of gradution in the form of an official high school or GED transcript
Submit official college transcripts from all accredited colleges
Must have a minimum GPA of 2.00
Must be eligible for English 101 and Math 118 or college-level math
Must be at least 18 years of age
Attend an interview with the Medical Director
Complete the program prerequisite courses
Complete the immunization, drug screening, background check, physical, and TB test requirements
Tuition costs $146 per credit hour for in-district students and does not include the cost of textbooks, fees and other related costs.
Address: 1900 W. Jackson Chicago, IL 60612
Phone: (312) 850-7000