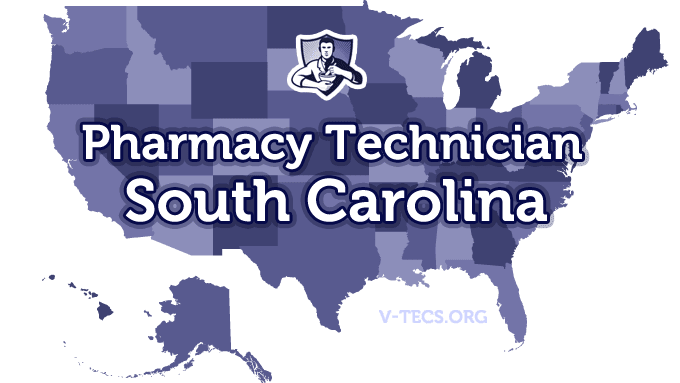 South Carolina can be a great place to gain employment as a pharmacy technician, but you need the information necessary to have a successful career as one.
Are Pharmacy Technicians Regulated In South Carolina?
Yes they are regulated.
Does South Carolina Require Certification To Practice As A Pharmacy Technician?
Yes, there is a national certification and a state certification. However you can start work and register while still being on your way to getting both.
Which Of the Certification Exams Are Approved By South Carolina?
The PTCB (PTCE).
What Are the Registration Dates?
You have to apply for and receive proof of your registration before you can start working.
Is A License Required?
Yes it is required.
The South Carolina State Board of Pharmacy Information
Synergy Business Park, Kingstree Building
110 Centerview Drive, Suite 202
Columbia, SC 29210
Mail: PO Box 11927
Columbia, S.C. 29211-1927
Telephone: 803-896-4700
Fax: 803-896-4596
Are There Any Professional Associations?
The South Carolina Pharmacy Association, which can be contacted at www.scrx.org.
What Are the Requirements To Become Licensed and Become Certified By the State of South Carolina?
Be at least 18 years of age.
Obtain your high school diploma or the equivalent.
Get through at least 1,000 hours of work as a pharmacy technician with limited responsibilities.
Complete a technician training course that is board approved.
Then comes your written application for registration as a pharmacy technician that you must submit to the South Carolina State Board of Pharmacy, and the application can be found here .
You need to include the $40 nonrefundable application fee and a copy of your social security card.
You also must complete the affidavit of eligibility as well.
Will There Be Training Required?
Yes, the license means you have to complete a training program approved by the board.
What About Continuing Education Requirements?
Yes there is, South Carolina requires that you obtain 10 hours of CE by the ACPE, or the American Council on Pharmaceutical Education. You can also get 10 hours of CME approved continuing education courses each one year renewal period instead. Four of the 10 hours must be gained through lectures, seminars, or workshops. There are also other requirements for those that are nationally certified.
When Is Renewal Required?
Annually, and the expiration takes place on the 30th of June each year. The fee for renewal is $15.
What If I Move or I change Jobs?
Report the change to the state board as soon as possible.
Here Are A Few More Tips:
Pharmacy technicians will have wallet sized registration cards that they will need to keep on their person at all times in the pharmacy. They also have to have their licenses displayed at the pharmacy.
A technician of the pharmacy may only be able to perform tasks that don't require professional judgment.
The pharmacist that is supervising is also the one responsible for everything a pharmacy technician does.
The ratio of pharmacy technicians to pharmacists is two to one, although it may be stretched to three if two out of the three are nationally certified.