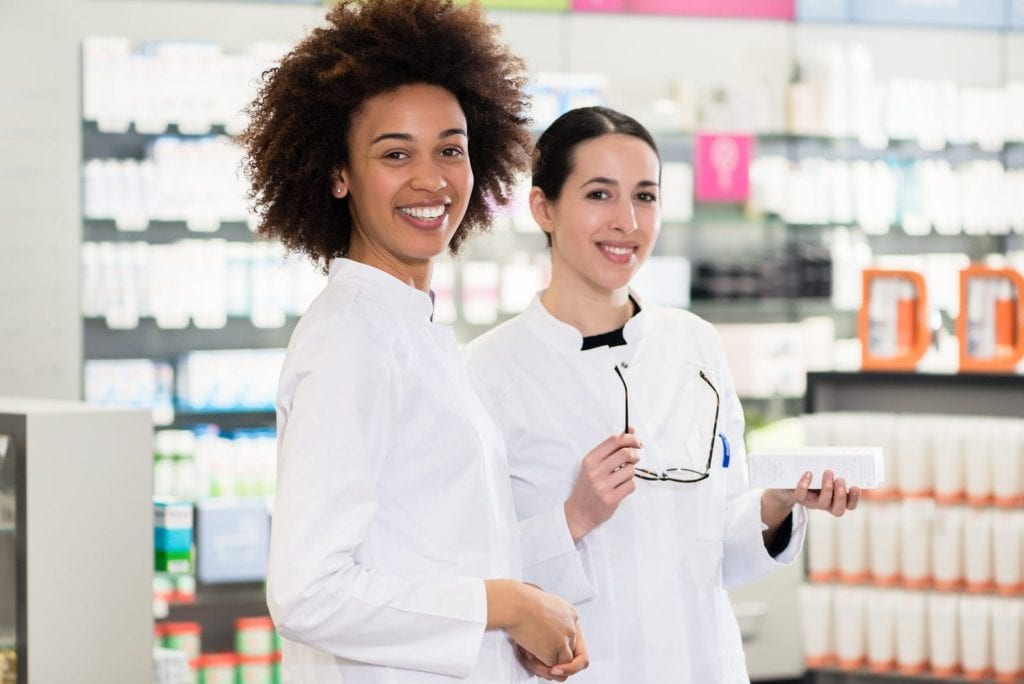 You can become a pharmacy technician and start a career in the healthcare industry without having to complete a drawn-out degree program. In the State of California, you can complete a certificate program in just 6 months and be on your way to a successful career in the pharmaceuticals industry. Accredited programs will prepare you for entry-level employment as well as national certification from the Pharmacy Technician Certification Board. Theoretical and practical training will help you to develop the skills you need to assist pharmacists with the dispensing of prescription drugs and other health care products. You'll learn how to collect the information needed to fill prescriptions, package and label prescriptions, measure the amounts of medication indicated on the prescriptions, organize inventory, accept payments, and update patient information in the pharmacy records.
San Joaquin Delta College
San Joaquin Delta College offers a pharmacy technician program to prepare students for employment as a pharmacy technician. The certificate program covers the basic skills and concepts that students need to dispense prescriptions alongside a pharmacy technician. Course topics include anatomy and physiology, pharmacology, dosage calculations, inventory management, the top 200 drugs, pharmacy billing systems, customer service, receiving prescriptions, dispensing prescription drugs, the history of pharmacy, and pharmacy operations in a community pharmacy. The fee-based course requires registration when the program is available. Graduates will receive a Pharmacy Technician Certification. The program is offered in the evenings and weekends to allow for greater flexibility.
Admission criteria:
Must be 18 years of age or older
Must enroll in the online registration system before registering for the class
Create a new account to receive log-in credentials
Select the course with your preferred schedule and register for the program
Make the required payment to complete registration for the program
Tuition and schedules are subject to change.
Carrington College
Carrington College hosts a Pharmacy Technology Certificate of Achievement program that is designed for adults interested in a healthcare career where they will dispense medication and healthcare products to patients. The program is delivered in a blended format giving students the opportunity to complete part of the coursework online and the practical experiences on campus. The curriculum requires completion of 840 clock hours including 375 hours, 225 lab hours, and 240 hours of clinical experiences in a community and hospital pharmacy. Topics of study include general pharmacy and pharmacology, cardiovascular and renal systems, microbiology, classification of infectious diseases, eye/ear medications, OTC drug usage, pediatrics, geriatrics, endocrine system and psychopharmacology, principles of math, career development, interpersonal communication, introduction to psychology, principles of nutrition and computer literacy. Other topics include retail operations, hospital operations and parenteral dosage calculations lab, and compounding and pharmacy calculations lab.  Graduates will have earned a total of 36 credit hours are eligible to take the national PTCB to become a certified pharmacy technician.
Admission criteria:
Must have completed high school or equivalent – copies of high school diploma, high school transcript or GED certificate required
Must be a least 17 years of age – students under 18 must have a parent or guardian sign the enrollment agreement
Submit a completed application to Carrington College and pay the registration fee of $100
Take and pass the Wonderlic SLE with a minimum score of 13
Provide documentation of immunization records
The total program cost of $19,958 includes tuition, textbooks, fees, and supplies.
San Joaquin Valley College
SJVC prepares adults for entry-level employment as a pharmacy technician. The program leads to a certificate of completion but students have the option to complete general education requirements to obtain an Associate of Science degree. The curriculum covers the fundamentals of arithmetic, math skills in pharmacy applications, and business practices in a retail pharmacy. The pharmacy externship is designed to prepare students with the skills to succeed in a real-world pharmacy. Students will learn anatomy, physiology, pathophysiology, pharmacology of the nervous systems. Pharmaceutical dosage forms, pharmacokinetics, terminology, abbreviations and symbols, trade and generic drugs, and interpretation of prescriptions. The pharmacy lab sessions will give students a chance to apply the concepts learned in the classroom before they commence the pharmacy externship. Students must complete 36 credit units to graduate with a Pharmacy Technician Certificate of Completion. The duration of the program is 36 weeks.
Admission criteria:
Must have completed high school or equivalent – a high diploma or GED certificate is required
Must be at least 18 years of age
Must attend an interview with an admissions advisor
Take and pass the Wonderlic SLE with a minimum score of 12
Sign the Enrollment Agreement
Complete New Student Orientation prior to the first day of class
Submit to a criminal background check and drug screen
The program cost of $19,670 includes tuition and fees. The associate degree program costs $30,577.
UEI College
The UEI pharmacy technology program will equip adults with knowledge, skills, and hands-on training to secure employment in the field of pharmacy. UEI offers smaller, comfortable classrooms and labs that simulate the real-world environment. The modern lab is outfitted with equipment and tools that will help students transition to a community or institutional pharmacy with confidence in their abilities. A pharmacy externship with an approved local employer lets students practice the knowledge and skills gained on campus as they meet customer needs as part of the pharmacy team. The program is delivered in hybrid format, so some of the courses may be completed online. The curriculum covers a total of 760 clock hours or 34.5 semester credit units. Course modules include hospital pharmacy procedures and sterile preparations, internal medicine, pharmacy law, drug administration and information, retail pharmacy procedures, additional settings and OTC medications, pharmacology and compounding, and pharmacy externship. The duration of the program is 36 weeks. Graduates will receive a Pharmacy Technician Diploma and be eligible to take the PTCB exam to become a Certified Pharmacy Technician.
Admission criteria:
Must be 18 years or older to graduate
Must have completed high school or GED – documentation required
Must be free from felony convictions of any kind – complete a background check if requested
Submit a completed application and registration fee
Complete live scan fingerprinting
Pass a 10-panel drug screen
The program cost of $19,900 includes books, supplies, and uniforms.
Website: https://www.uei.edu/
Address: 3602 N. Blackstone Ave. Suite 0268, Fresno, CA 93726
Phone: 877-463-4472
CalRegional
CalRegional prepares pharmacy technician students with practical knowledge and specialized skills to work as entry-level pharmacy technician alongside pharmacists in community and institutional pharmacies. The comprehensive curriculum requires completion of 182 hours in the classroom instruction and 120 hours for the pharmacy externship. Attendance of the pharmacy externship is mandatory. Students must complete CPR training as part of the program. Coursework includes pharmaceutical and medical terminology, abbreviations and symbols, billing, pharmacy technician practice, inventory control, receiving and processing prescription orders, pharmacology and medications, routes of administration, pharmacy externship, and much more. Graduates will be eligible to California State Licensure. They may also take the PTCE administered by the Pharmacy Technician Certification Board.
Admission criteria:
Must be 18 years of age or older at the program start date
Must have a high school diploma, GED, or equivalent
Must pass a basic math and English assessment with a score of 70% or better- assessment will be conducted on the first day of class and students will have two attempts to pass
Ability to Benefit is not available
Must pay all applicable fees according to the published fee schedule
Complete and sign the enrollment agreement
The total program cost of $2,995 includes tuition, registration fee, and externship fee. Other costs include textbooks, scrubs, background check, and drug screen, and exam review and test fees.
Modesto Junior College
Modesto Junior College offers a pharmacy technician program comprising of in class sessions, hands on lab, and pharmacy externship at approved pharmacies in the community. The curriculum covers a total of 694 instructional hours: 294 hours in the classroom and lab and 340 hours of supervised externship at various pharmacies. Part of the program may be delivered online. Course topics include pharmacy operations, dosage calculations, anatomy and physiology, pharmacy terminology, pharmacy symbols and abbreviations, inventory management, customer service, billing and insurance, generic and brand name drugs, and reading and interpreting prescriptions. Classes meet Tuesday and Thursday evenings to give working students the opportunity to train for a new career.
Admission criteria:
Must be 18 years of age or older to apply
Must have a high school diploma or GED certificate
Must have a valid social security number
Take and pass the Pharmaceutical Calculations Math Exam
Complete the Reading Requirement Accuplacer English score of 100 or higher or MJC English 100 or higher and passed with a grade of C or better
Obtain a clean background check and drug screen
Provide proof of immunization and health clearance before the start of the pharmacy externship
Attend a pharmacy technician information session before applying to the program
Complete the Informational Meeting Quiz
Tuition for the program is free for eligible students. Students must cover the costs for books and supplies.