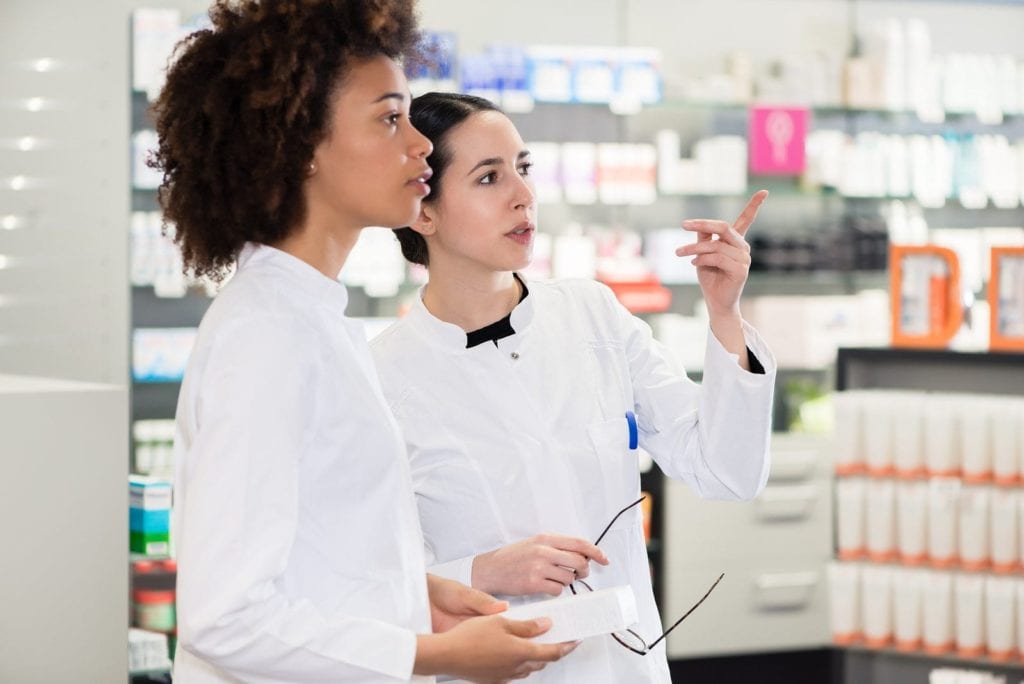 The growing field of healthcare requires professionals in almost every sector. The prevalence of chronic diseases in the aging population increases demand for prescription medications. Advances in pharmaceutical research, the development of new medications, and health care reform also create the need for more prescriptions to be filled. Pharmacy technicians are needed to meet the demands placed on retail and institutional pharmacies. They have a critical role in the dispensing of medications and other healthcare products.
Pharmacy technician programs prepare adults to assist licensed pharmacists in the dispensing of prescriptions and daily operations of the pharmacy. Accredited programs will prepare students for practice in both retail and institutional pharmacies. In retail settings, technicians must prepare medication, replenish inventory, create and maintain patient records, prepare prescription labels, prepare insurance claims, assist customers, manage the cash register, and read and interpret prescriptions. In hospitals, a technician's role may include a wider range of responsibility. Their duties might include repackaging medications, preparing sterile intravenous medications, collecting data for quality improvement, operating computerized dispensing machines, and delivering medications to patients' rooms. Hospital technicians might also assemble a 24-hour supply of medication and prepare commercially unavailable medications.
Apart from working in hospital and retail settings, pharmacy technicians may also work in home health care, mail order pharmacies, nuclear medicine pharmacies, and drug manufacturing companies. According to the United States Bureau of Labor Statistics, employment of pharmacy technicians is projected to grow 12 percent from 2016 to 2026, a growth that is faster than average for all occupations.
California State University, East Bay – Continuing Education
California State University prepares adults to launch a career as a Pharmacy Technician. The program is offered in an online format and includes a pharmacy externship at a local pharmacy. Throughout the program, students will acquire the skills to perform pharmacy calculations, interpret physicians' orders, measure, count, and pour medications, and receive inventory. Graduates will be prepared for success on the PTCB exam. The online format of the program allows for self-paced study while providing the same quality of the traditional format. The challenging curriculum prepares students for the intensity of practice. However, one-on-one support from instructors gives students the help they need to succeed. The clinical rotation at hospital and retail pharmacies let students apply the theoretical principles in a real-world setting. At the program's conclusion, students will work understand medical and pharmaceutical terminology, hospital pharmacy operations, retail pharmacy operations, drugs and their effects, HIPPA requirements as they relate to pharmacy, federal and state laws that govern pharmacy, and the pharmacology or medications. The course covers a total of 330 contact hours.
Admission criteria:
A high school diploma or equivalent
Be proficient in keyboarding
Have a command of English grammar and punctuation
Participation in the clinical rotation requires:
Cannot have a criminal record
Pass a drug screen
Complete a criminal background check
Pass an employment verification
Submit immunization records
Have professional liability insurance
Tuition is $2,565.
Address: 25800 Carlos Bee Blvd, SF 102, Hayward, CA 94542
Phone: (800) 730-2784
Fax: (510) 885-4817
Email: ce@csueastbay.edu
Mission College
Through intensive preparation over a period of 30 weeks, Mission College prepares students with foundational knowledge for employment as a pharmacy technician. The program is beneficial for students (high school or college), adults seeking a career change, and adults who want a career in health. Written and taught by licensed pharmacists, the curriculum includes 400 contact hours of classroom theory, hands-on lab, workshops, and a supervised externship in retail or hospital pharmacies. Graduates will receive a Certificate of Completion and will be eligible for licensure by the California Board of Pharmacy. Course topics include introduction to pharmacy practice, pharmacy math, pharmacy law, pharmaceuticals, pharmacology, pharmacy terminology, pharmacy communications, and pharmacy math. Other topics include professional development, OTC and healthcare devices, compounding, institutional pharmacy operations, managed care, outpatient pharmacy operations, and a clinical externship. Students will develop skills and professionalism from field trips and through simulations in the school's lab. Lab simulation activities will include drug labeling, dispensing and compounding medications, pharmacy software, aseptic techniques, and inventory. Day and evening schedules are available. Day classes meet Monday through Thursday from 9 am to 12 pm. Evening classes meet Monday through Thursday from 6:30 pm to 9:30 pm.
Admission criteria:
Attend a formal interview
Take and pass the assessment tests
Submit official high school transcripts or certified copy of the HS diploma
Complete a background check
Complete health clearance including TB test
Demonstrate strong communication, English, math, and computer skills
Tuition costs $5,500 and includes materials and deposit.
Address: 3000 Mission College Boulevard Santa Clara, CA 95054
Phone: 408-855-5083
Carrington College
Carrington College provides pharmacy technician students with the theory and practical training to be eligible for licensure to function as assistants to licensed pharmacists. Students learn drug distribution systems, pharmaceutical and medical terminology, abbreviations and symbols, dispensing and documenting medications, pharmacy calculations, preparation of sterile dosage forms, standards and ethics in practice, and drug distribution methods. Students must complete a total of 690 contact hours (28.5 semester credit hours) to complete the Certificate requirements. The curriculum is broken down into 270 lecture hours, 240 lab hours, and 180 clinical hours. Graduates will receive a Certificate of Achievement and will be eligible to sit the Certified Pharmacy Technician national certification exam.
Admission criteria:
Be a high school graduate or equivalent
Pass the Wonderlic Scholastic Level Exam with a score of 13 or higher
Pass a background check
Meet the health requirements
Tuition for the program is $16,217. Books and supplies cost an additional $680.
Address: 15555 E. 14th Street, Suite 500, San Leandro, CA 94578
Phone: 510-964-3085