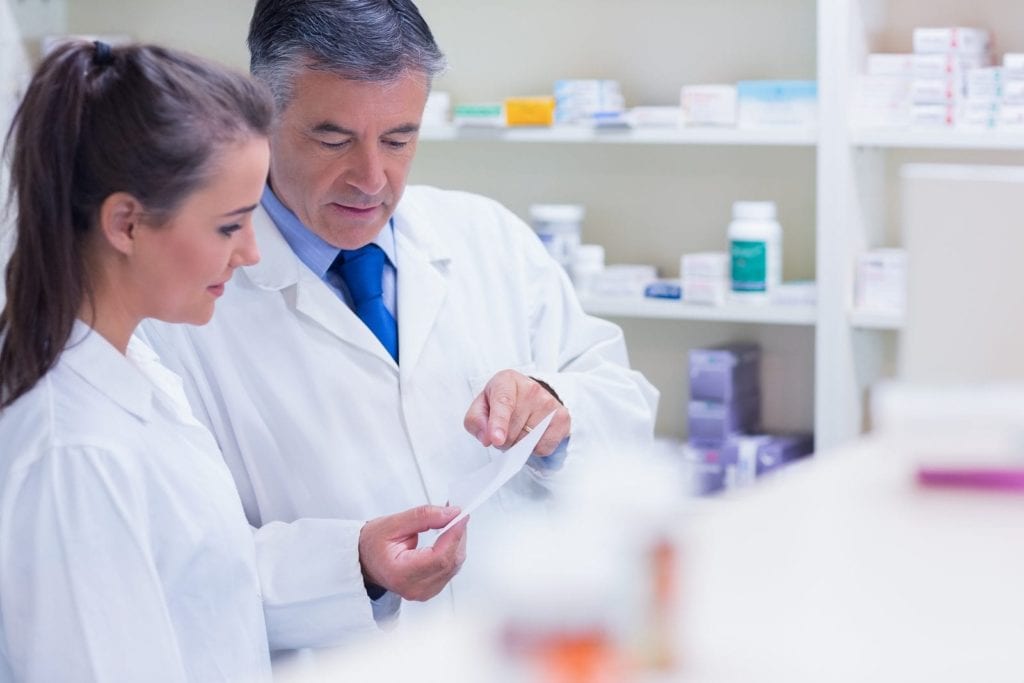 Community and hospital pharmacies need qualified technicians to help dispense prescriptions. The role of pharmacy technicians go well beyond that of recording medication histories, receiving prescription orders, and preparing and packaging medications for dispensing to the public. In community pharmacies, technicians manage the day-to-day operations, including dispensing medications, maintaining stock, billing, and administration. The role of the technician in a hospital pharmacy may exceed that of the community pharmacy, and this is reflected in the rate of pay. Under the oversight of a pharmacist, the technician in an institutional pharmacy might interview and counsel patients, prepare unit doses, and deliver medication to patients' rooms. Pharmacy technician programs that are accredited by the American Society of Health System Pharmacists prepare students for success on the Pharmacy Technician Certification Exam so employers have the assurance of having highly skilled technicians behind the counter. A well-trained and certified technician is a welcome support to pharmacists who must balance their time between he pharmacy and clinical duties. In light of the technician's expanded role, more and more employers are requiring certified technicians. Pharmacy technician students can complete the required training and certification in 6 to 10 months and have the confidence and skills to enter this essential part of the healthcare workforce.
Rasmussen College
Rasmussen College's pharmacy technician certificate program prepares students for success on the PTCE for national certification a Certified Pharmacy Technician. The curriculum covers 38 credit hours of core and general education courses to give students the confidence and practical experience to support registered pharmacists in a variety of healthcare settings. Students develop skills that will enable them to manage inventories, prepare and handle medications, apply safety, quality assurance and patient confidentiality practices, use pharmacy software, assist patients at the pharmacy counter, and communicate with patients and healthcare professionals. Areas of study include career development, medical law and ethics, medical terminology, foundations of pharmacy practice, customer service in healthcare, sterile and non-sterile compounding, pharmacy retail practicum, pharmacy calculations, structure and function of the human body, and pharmacy technician capstone. Tuition and fees cost$14,120.
Address: 904 South Taylor Street, Suite 100, Green Bay, WI 54303
Phone: 920-593-8400
Toll free phone: 888-201-9144
Northeast Wisconsin Technical College
The pharmacy technician program at Northeast Wisconsin Technical College is specially designed for adults who are detail oriented, good communicators and enjoy working with people. The two-semester program is offered in collaboration with Lakeshore Technical College and covers 36 credit hours. During the first semester, students gain a foundational knowledge of medical terminology, pharmaceutical calculations, pharmacy business apps, health insurance and reimbursement, pharmacy law, fundamentals of reading prescriptions, and pharmacology. The final 18 credits will be completed in the second semester and will cover pharmacy drug distribution, pharmacy community clinical, pharmacy parenteral admixtures, pharmacy computer lab, pharmacy hospital clinical oral/interpersonal communication, and introduction to psychology. At the conclusion of the program, graduates will be able to package and label drugs, receive and inventory shipments, prepare and deliver unit dose in hospitals or nursing homes, maintain records, and practice ethical standards and legal implications of practice. Persons interested in applying to the program must submit a completed application and fee, submit official high school transcripts, complete a background check, complete the health requirements, complete an assessment for placement, and meet with a program advisor. Tuition costs $1,745 per semester.
Website: https://www.nwtc.edu/
Address: 2740 West Mason St, Green Bay, WI 54303
Phone: 920-498-5444
Toll-Free: 1-800-422-NWTC
Fox Valley Technical College
Fox Valley Technical College offers a pharmacy technician certificate program in collaboration with Lakeshore Technical College to prepare students for the role where they'll assist registered pharmacists with a variety of technical tasks. The program is accredited by the American Society of Health-System Pharmacists and includes instruction in the classroom and pharmacy setting. Course topics include communication, inventory management, legal and ethical standards in practice, sterile and non-sterile compounding, packaging and labeling, reading and interpreting prescriptions, pharmacology, pharmacy calculations, record maintenance, pharmacy software, and drugs and their effects. Interested persons must submit a completed application and fee ($30), provide official high school transcripts, and complete a criminal background check. Students accepted into the program must complete a placement test (Accuplacer or ACT), sign the Pharmacy Technician Handbook form, complete the health/TB tetanus form, and review the Functional Ability Statement of Understanding for the pharmacy technician program. Tuition for the program is $140 per credit for resident students. Additional fees include books, tools, uniforms, supplies, and health related exams.
Address: 1825 N. Bluemound Drive, Appleton, WI 54912-2277
Phone: 920-735-5645
Toll-free: 1-800-735-3882
Email: admissions@fvtc.edu