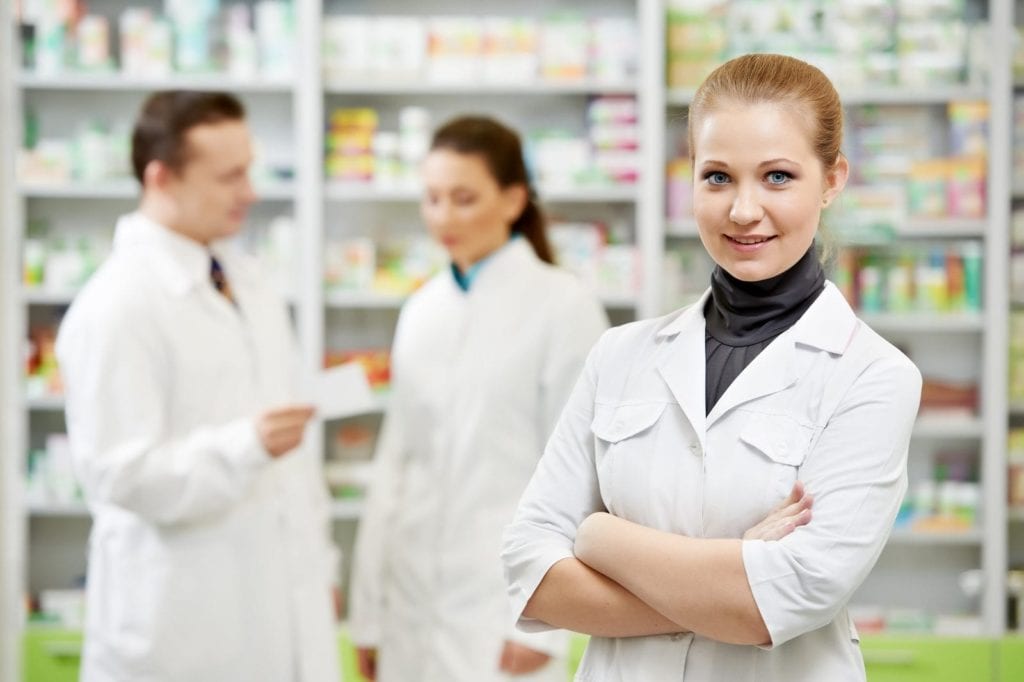 The need for pharmacy technicians is expected to increase 9 percent through 2024. Technicians work under the supervision of a pharmacist in a variety of settings, including home infusion pharmacies, community pharmacies, hospitals, and other health care settings. The shortage of registered pharmacists, wide availability of new drugs, the aging population, and workforce turnovers influence the demand for technicians. The shortage of registered pharmacists and the widening of the services that pharmacies offer have forced the industry and state bodies to redefine the role of the technician in the pharmacy. Technicians are the liaison between patients, pharmacists, physicians, and insurance companies. As a result, good communication is essential. To receive, read, and interpret prescriptions, review, reorder, recall, and label inventory, and update patient records, technicians must be meticulous. The other responsibilities that a technician might perform include mixing intravenous solutions, preparing and dispensing medications, receiving electronic prescriptions, handling order entries, and preparing insurance claims. These and other responsibilities show the vital role the technician has in the pharmacy and the reason employers' place heavy emphasis on certification for the pharmacy technicians.
El Paso Community College
The Pharmacy Technology Program at El Paso Community College provides students with the specialized skills they need to function as a vital member of the pharmacy team. The technician's role in the pharmacy has evolved, so preparation for practice covers the key areas that will help graduates receive and interpret prescriptions, mix sterile pharmaceuticals, prepare medications for dispensing, and maintain an inventory of medication. EPCC offers two options: the Certificate of Completion and the Associate of Applied Science. The certificate program may be completed in two semesters, and the AAS requires an additional year for completing the general education and science courses. Course topics include pharmacy terminology, introduction to pharmacy, computerized drug delivery systems, pharmaceutical mathematics, and pharmaceutical drug therapy. Students also learn compound sterile preparations, pharmacotherapy and disease process, and participate in a pharmacy externship. The program will conclude with a Pharmacy Technician Certification Review. Graduates are prepared to succeed on the National Pharmacy Technician Certification Examination.
Admission criteria:
Have a high school diploma or GED
Submit official transcripts
Be accepted as an academic credit student
Attend a Health Careers Orientation Session
Submit an application for specialized admission and pay the accompanying fee
Complete specialized and academic courses on the degree plan with a grade C or better
Register as a Technician Trainee with the Texas State Board of Pharmacy
Complete a background check
Obtain CPR certification
Complete a physical exam and provide documentation of immunization and titers
Must have current liability insurance
Complete a satisfactory drug screen
In-state tuition and fees cost $3,168. Out-of-state tuition and fees cost $6,880. Books and supplies cost an additional $4,135.
PIMA Medical Institute
PIMA prepares pharmacy technician students for a rewarding career in health. The curriculum includes classroom instruction and hands-on training. Students learn how to mix intravenous solutions, count tablets and label bottles, receive electronic prescriptions, receive written prescriptions, stock inventory and prescriptions, manage request for refills, and input orders into the computer. The program covers 350 hours in the classroom, 250 lab hours, and 240 externship hours for a total of 35.5 credits. Course topics include anatomy, physiology and terminology, math fundamentals, CPR and First Aid, pharmacy math, inventory maintenance, pharmacology, pharmacy law and ethics, pharmacy technician duties, fundamentals of chemistry, and pharmacy computer applications. Graduates will receive a certificate in Pharmacy Technician and will be eligible to take a national exam to become a Certified Pharmacy Technician. Full-time day students can complete the requirements in 36 weeks and evening students will complete the program in 41 weeks.
Admission criteria:
Submit an application for admission
Provide verification of completing high school – a high school diploma, high school transcript, or GED
Meet with an admissions representative
Pass an entrance exam
Pass a background check and drug screen
Tuition for the program is $16,551. It includes textbooks, lab supplies, tax, technology fee, uniforms.
Website:  https://pmi.edu/
Address: 6926 Gateway Boulevard E., El Paso, TX 79915
Phone: 800-477-PIMA
The University of Texas at El Paso
The comprehensive online pharmacy technician program at UTEP prepares students to take the PTCB exam and enter the pharmacy field. The clinical externship is not a requirement, but it gives graduates the opportunity to put their knowledge to practice. Those who accept the externship opportunity will be placed in a healthcare organization near their location. The classroom lectures cover key topics include pharmacy calculations, medical terminology, dosage calculations, the top 200 drugs, IV flow rates, drug compounding, reading and interpreting prescriptions, inventory control, dispensing prescriptions, and billing the reimbursement. Graduates will be able to demonstrate ethical conduct in their duties, interpret physician orders and prescriptions, communicate with patients and medical professionals, explain laws that govern pharmacy, control inventory, and describe drugs in the current Top 200 Drug List. Students will receive video lesson presentations, 24/7 learner support, and instructor facilitated options.
Admission criteria:
Must have a high school diploma or GED
Must have a computer and internet access
Tuition for the program is $3,000.
El Paso Independent School District
El Paso ISD offers a pharmacy technician program in conjunction with the El Paso Community College. The program is open to high school students. During the first year, students will earn 2 credits per semester and will take courses in anatomy and physiology, medical terminology, principles of health science, medical law and ethics, well and health promotion, health science, and introduction to health professions. The second year will cover pharmaceutical mathematics, introduction to pharmacy, IV certification, and pharmacy technician practicum. The practicum will be conducted at an external site and will give students the opportunity to practically apply their knowledge and skills gained in the first year. Graduates are eligible for IV Certification and the PTCE exam.
Admission criteria:
Must be 16 years of age or older
Must be a high school student
Must have completed with prerequisites with a satisfactory grade and an overall GPA of 90% – Biology, Chemistry, Principles of Health Science,
Pass a criminal background check and fingerprinting
Submit negative TB test results
Submit to a drug screen. Applicants with a history of substance abuse will not be admitted
Present a copy of social security card and valid Texas ID
The training is free.
Vista College
Vista College provides pharmacy technician students with all the tools to begin employment as a pharmacy technician. The pharmacy technician diploma requires completion of 60 credit hours. The curriculum is built on the specialized skills that employers demand. Experienced instructors take a hands-on approach to pharmacology, procurement, billing, patient assistance and more. Course modules are an introduction to pharmacy practice, pharmacy calculations, pharmacy billing and inventory management, pharmacy simulation dispensing pharmacy, pharmacy compliance and medication safety, sterile compounding and long-term care, and pharmacy review and experience. Students will participate in a pharmacy externship that will provide valuable work experience in the role of the pharmacy technician. Career readiness training is included in the program and will cover interviewing skills and resume building. Graduates will be prepared for the certification exams: the State Board of Pharmacy Licensure as a Pharmacy Technician and the National Pharmacy Technical Board Examination as a Certified Pharmacy Technician. The duration of the program is one year based on full-time attendance.
Admission criteria:
Must be at least 17 years of age. Applicants under 18 must have a parent/legal guardian signature on the enrollment agreement
Complete an interview with the Admissions Department
Sign the enrollment agreement and all enrollment documents
Provide official documents of completing high school or equivalency – high school transcripts, original diploma, or verifiable GED certificate
Take and pass the Wonderlic SLE
Pass a background check
Complete a drug test with a negative screening result
Tuition for the program is $14,500. It includes textbooks, a toolkit, and registration fee.