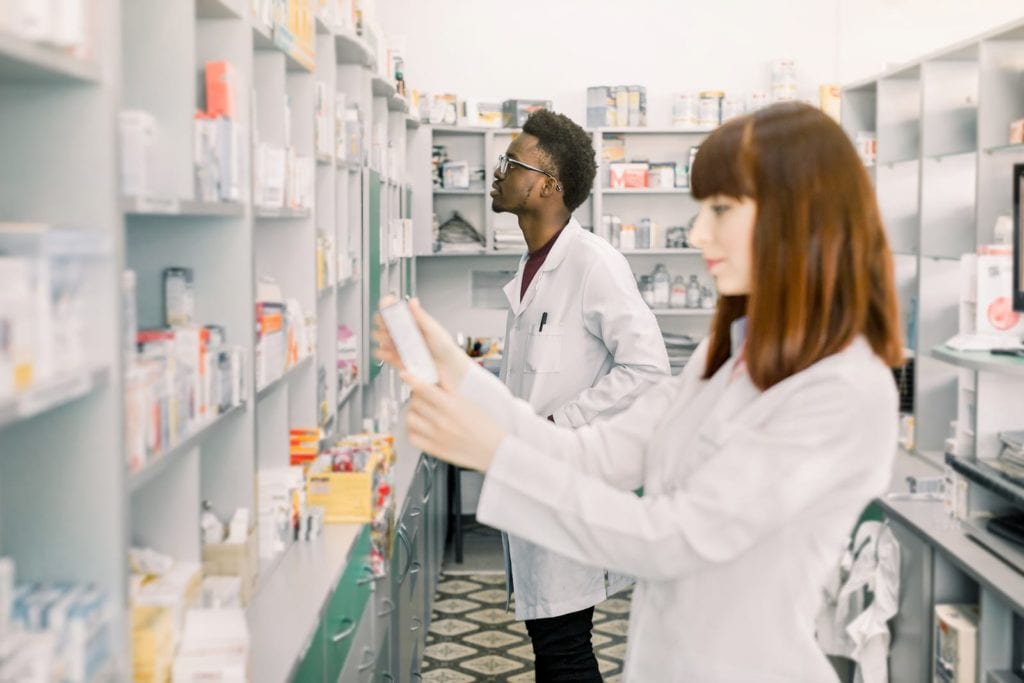 As skilled professionals, pharmacy technicians support licensed pharmacists with various activities in a community, retail, or institutional pharmacy. They sterilize equipment, dispense medications, fill prescriptions, maintain inventory, bill insurance companies, create prescription labels, and answer customer service queries. While technicians may answer routine customer service questions, they must refer questions regarding prescriptions, health concerns, and drug information to the pharmacist. Technicians may receive prescriptions in person or electronically from a physician's office and verify the content for accuracy and completeness. After preparing the prescription and attaching appropriate labels technicians may file and price the medication before it is checked by the pharmacist for dispensing to the customer. In hospitals, technicians bear extra responsibilities such as reading patient charts, delivering medication to patients, assembling a 24-hou support of medicine, and packaging separate dosages.
Michigan State requires pharmacy technicians to obtain licensure for employment in the field. Technicians may require a high school diploma or equivalent and a clear background check. Employment of pharmacy technicians in the region is expected to remain strong, according to the U.S. Bureau of Labor Statistics. The expansion of health services, rise in the aging population, increase in outpatient and home infusion pharmacies are all factors that contribute to job growth for technicians.
Henry Ford College
The pharmacy technician program at Henry Ford College is a Complex Skills Certificate that prepares adults for employment as an entry-level pharmacy technician in hospitals, community, retail and institutional pharmacies. The program emphasizes theory in the classroom as well as clinical procedures in various home infusion, long-term care, hospital, and outpatient pharmacies. The school's simulated lab facilitates practice of essential skills that will prepare students for employment. Course topics include Introduction to Pharmacy Technology, Outpatient Pharmacy Externship, Pharmacology I for Pharmacy Technicians, Pharmacology II for Pharmacy Technicians, Basic Pharmacy Software Applications, Pharmaceutical Calculations, Issues in Pharmacy, Applied Pharmacy Systems, Applied Out-Patient Pharmacy Systems, and Pharmacy Externships. Support courses include Medical Terminology, Business Language Skills, Computers in Health Care. At the conclusion of the program, graduates should be able to communicate effectively with customers as well as members of the health care team, perform technical skills used in the pharmacy setting, and prepare and dispense medication and process physician orders. They will be eligible to take the PTCB exam to become a Certified Pharmacy Technician. The program is one of six in Michigan that maintains accreditation through the ASHP. The transfer of courses must be from an ASHP accredited program only. The program admits new students once yearly in the fall semester. The externship component of the program may be scheduled during the spring, summer or fall semester. The duration of the program is one year for full-time students and two years for part-time students. Applicants must satisfy the admission criteria to be accepted to the program.
Admission criteria:
Must be a high school graduate with a GPA average of C+ (2.25). This requirement may be satisfied by completing a minimum of 12 college credits with a GPA of 2.25 or higher
Complete the Accuplacer Next Gen with a reading score of 250+, or CAMLA with a score of 69 or higher, or ENG 131 with a score of C or better
Complete MATH-100, or MATH 101, or MATH 1094 with a grade C or better
Complete the Health Careers Typing Test at a rate of 25 wpm or BCA-101 with a grade C or better
Complete the required Support Courses with a grade C or better
Complete AHA Basic Life Support
Meet the physical and mental requirements for employment as a pharmacy technician
Submit to a criminal background check and drug screen. Applicants who fail the drug screen or background check will not be permitted to complete the program
Tuition costs $101.50 per credit hour for Level 100 and 200 courses. Payment plans are available for all students.
Website: https://catalog.hfcc.edu/programs/pharmacy-technician-certificate-achievement
Address: 5101 Evergreen Rd., Dearborn, MI 48128
Phone: 313-845-9600
Macomb Community College
The Pharmacy Technician Program at Macomb Community College is offered through Workforce and Continuing Education to prepare students for entry-level employment in an ambulatory and institutional pharmacy. The curriculum covers 92 contact hours of unpaid internship to help students apply the theory and practical learning covered on campus. Some areas of study include pharmacology, anatomy and physiology, receiving and dispensing medications, inventory control, billing and insurance, updating patient profiles, pharmacy software, retail and institutional pharmacies, packaging and labeling medications, and pharmacy terminology. The duration of the program is six months. Part of the program may include web-based learning. Graduates will be prepared to sit for the Pharmacy Technician Certification Exam.
Admission criteria:
Create a new admission account to apply to the College
Apply for Financial Aid
Attend a New Student Orientation Online
Take and pass a placement test
Meet with a counselor at a program planning session
Financial aid may be available for eligible students.
Website: https://www.macomb.edu/future-students/programs/pharmacy-technician.html
Address: 14500 E. 12 Mile Road, Warren, MI 48088
Toll-Free: 866.Macomb1
Phone: 586-445-7999
Email: answer@macomb.edu
Dorsey Schools
Dorsey Schools' Pharmacy Technician training program prepares adults for a rewarding career in healthcare. Students will acquire knowledge and skills to work in an ambulatory pharmacy where they will dispense medications under the supervision of a licensed pharmacist. The program starts with the foundational concepts, so no experience is needed to enroll. The curriculum will cover pharmacy operations, communication, customer service, pharmacy terminology, pharmacy abbreviations, drugs and their effects on the human body, generic and brand name medications, pharmacy operations, and pharmacy laws and regulations. The program also includes a supervised externship in an ambulatory pharmacy setting. The pharmacist and staff will direct the activities of students during the externship. Graduates are eligible to take the national Pharmacy Technician Certification exam. Dorsey Schools will cover the cost of the exam fee for students who opt to take the exam. The duration of the program is one year.
Admission criteria:
Have a high school diploma or GED
Attend a career planning session with a Dorsey Schools Admissions Representative
Must have a desire to succeed
Submit to and pass a criminal background check
The cost of the program is $12,545. Tuition includes books, a lab coat, and electronic device.
Website: https://www.dorsey.edu/pharmacy-technician/
Address: 31450 Gratiot Ave. Roseville, MI 48066
Phone: 586-296-3225
Ross Medical Education Center
Students enrolled in the Pharmacy Technician program at Ross Medical Education Center will learn how to assist a licensed pharmacist in the distribution of prescription drugs and other health care products. They will learn pharmaceutical and medical terminology, generic and trade name drugs, the standards of pharmacy ethics and law, dosage calculations, customer service, pharmacy software, and billing and insurance. The program will conclude with a pharmacy externship that will support the development of technical skills and give students the opportunity to meet potential employers. The curriculum is built around six key modules. Each module will include theory, hands-on, and practical skills. Areas covered include introduction to pharmacy, pharmacy operations, basic concepts and principles of mathematics, measurement systems and dosage calculations, pharmacy law and ethics, general pharmacy, pharmaceutical agents for human physiological systems, community/retail pharmacies, non-sterile compounding, hospital and health systems, and sterile compounding. The duration of the program is 36 weeks including six weeks for the pharmacy externship. It will cover 900 clock hours and 66.5 quarters credits.
Admission criteria:
Take and pass the Wonderlic Scholastic Level Exam with a score of 15
Must have graduated from an accredited high school or completed a recognized equivalent
Attend an orientation at the state of the classroom training
Tuition for the program is $14,990. It includes books, lab fees, and any other program fees.
Website: https://rosseducation.edu/programs/pharmacy-technician.php
Address: 29429 John R Rd, Madison Heights, MI 48071
Phone: (248) 548-4389
Lansing Community College
The Pharmacy Technician program offered by Lansing Community College includes classroom theory and a pharmacy externship. Areas of study include medical and pharmacy terminology, pharmacy software, reading and interpreting prescriptions, packaging and labeling, inventory management, updating patient profiles, and billing and insurance. The program is designed to be completed in two semesters, and graduates will be eligible to take the PTCB exam.
Admission criteria:
Complete Math 050 with a minimum grade C (2.0)
Financial aid may be available for eligible students.
Website: https://internal.lcc.edu/hhs/programs/chse/
Address: Gannon Building 411 N. Grand Ave, Lansing, MI 48933
Phone: 517-483-1957
Toll-Free: 800-644-4522