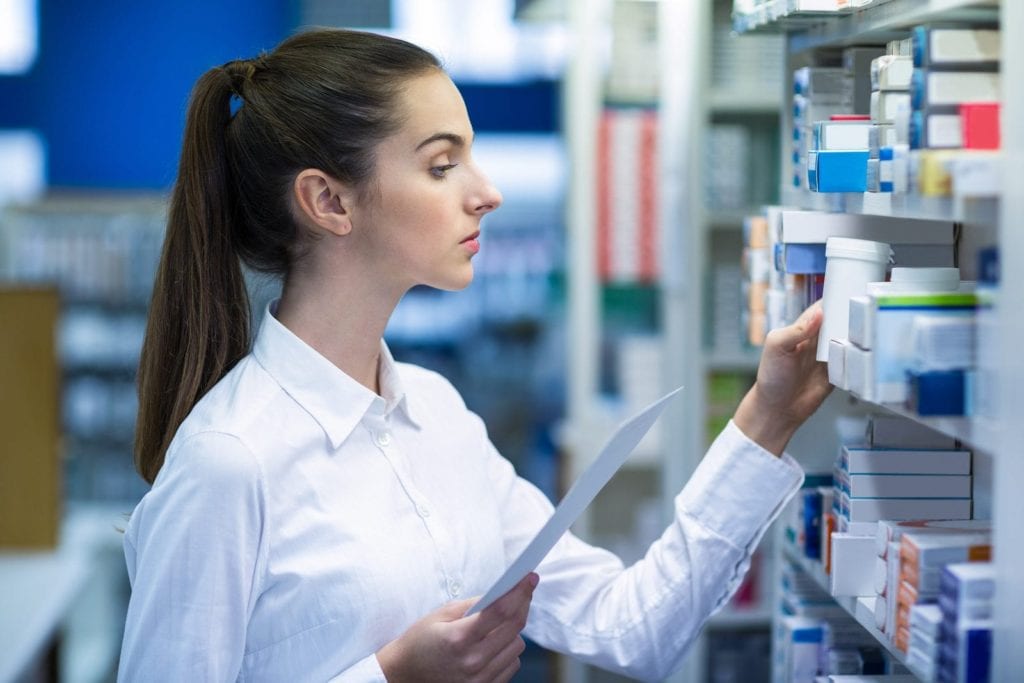 In a pharmacy setting, a technician works under the supervision of a pharmacist to distribute medications and other healthcare products. Pharmacy technician programs provide the short-term training – 6 months to one year – that adults need to prepare for such a role. In addition to supporting the development of relevant job skills, the programs also prep students for success on a national certification exam. Pharmacy technicians are doing more and more to support the daily operations of the pharmacy, performing all those activities that do not require the professional judgment of the pharmacist. As a consequence, employers prefer technicians who meet the standards for national certification.
If you desire to become an important member of the healthcare team, a career as a pharmacy technician may be perfect for you. The explosive demand for healthcare services provides technicians with numerous opportunities and career growth. In the workplace, you'll compound solutions, prepare IV mixtures, purchase stock, bill insurance companies, update patient profiles, manage the cash register, prepare and package medications for dispensing, and give customers vital information on their medications. Pharmacy technicians work in long-term care, retail pharmacies, home health, mail order pharmacies, nuclear pharmacies, hospitals, and the military.
West Virginia Junior College
The pharmacy technician program at West Virginia Junior College focuses heavily on the practical skills technicians need to be an invaluable part of the pharmacy team. In addition to hands-on training in a simulated lab, students will participate in an externship that will give them the opportunity to interact with a healthcare team in the real world and showcase their skills to potential employers. The program not only emphasizes job readiness skills, such as reading and interpreting prescriptions, pharmacy administration, and preparing medication for dispensing, but also prepares students for the certification exam, which will strengthen their chances in the job search. Throughout the program, students will learn to compound creams and capsules, manage home infusion pharmacies, prepare total nutrition mixtures, prepare chemotherapy and IV antibiotics, calculate flow rates, maintain controlled substance logs, and recognize neonatal and geriatric considerations. They also learn how to manage medication inventory, understand pharmacy law and patient privacy, and identify classifications of drugs. Graduates will earn an associate degree in pharmacy technology and will be eligible for IV technician, insurance specialist, pharmacy technician manager, and extemporaneous compounding technician positions. Tuition for the program is $25,250. Books and supplies cost an additional $506.
Address: 176 Thompson Dr, Bridgeport, WV 26330
Phone: (304) 296-8282
OIC Training Academy
The Pharmacy Technician Program at OIC Training Academy may be completed in just six months. Through a blend of classroom lectures, demonstrations, seminars, hands-on learning opportunities, students acquire the skills to work under the supervision of a licensed pharmacist. The program covers 600 clock hours of administrative and clinical skills. Areas of study include pharmacology, dosage calculations, pharmacy and medical terminology, inventory control, top 200 drugs, sterile and non-sterile compounding, aseptic techniques, dispensing prescriptions, reading and interpreting prescriptions, pharmacy law and ethics, and billing and insurance. Students will have opportunities for hands-on practice in labs that simulate real-world environments before participating in the four-week externship as a pharmacy technician. The externship provides an excellent opportunity for students to apply the knowledge gained in the classroom and gain valuable experience that will give them a competitive edge in the job market. Graduates will be ready to succeed on a National Certification Exam. Classes meet Monday through Friday from 8:30 am to 2:50 pm.
Admission criteria:
A high school diploma or GED
Submit a completed application and fee
Attend an admissions interview
Achieve acceptable scores in reading and math
Have no convictions of any felony or misdemeanor involving theft or drug activities
Complete the Statement of Health document
Tuition for the program is $7,800 and includes book rental, classroom supplies, fees, and one attempt at the National Certification Exam.
Website: https://oictrainingacademy.org/ 
Address: 120 Jackson Street, Fairmont, WV 26554
Phone: (304) 366-8142
Toll-Free: (888) 999-1602
Fax: (304) 366-8143