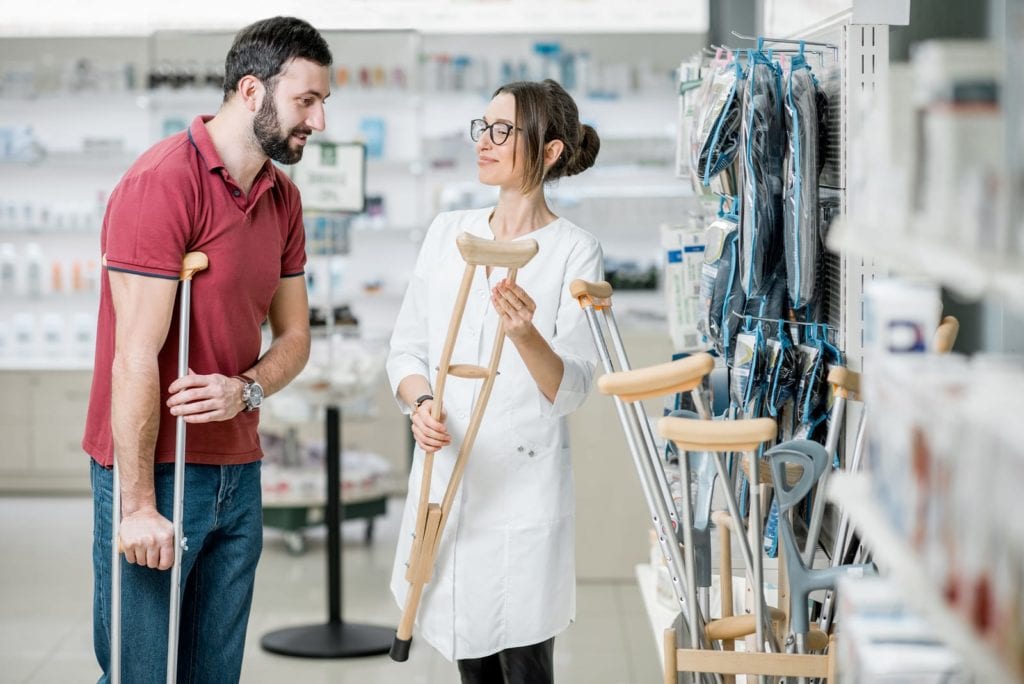 Pharmacy technicians dispense medications, update patient profiles, manage inventory and billing, and attend to customer service issues in hospitals, clinics, retail pharmacies, nursing homes, chain pharmacies, and other specialty pharmacies within the wider health care system. Apart from medical settings, pharmacy technicians may also work in non-healthcare settings, such as medical insurance companies, drug wholesale companies, and schools.
A pharmacy technician's duties depend on the setting. In community pharmacies, the duties might include receiving written prescriptions, confirming requests for refills, verifying the prescription for accuracy, preparing medications for distribution, and responding to customer queries. Technicians employed in hospitals read and update patients' charts, prepare 24-hours medication supplies, prepare IVs, and deliver medication to patients' rooms after a pharmacist checks for accuracy. Pharmacy technicians in nursing homes and assisted living facilities may perform many of the same duties as technicians in hospitals. Whether working in an institutional or community pharmacy, all technicians must be attentive to detail, be committed to accuracy and precision, and be knowledgeable of the laws and ethics that govern practice and their relation to patient health and safety.
As a segment of the growing healthcare industry, pharmacy technicians' jobs are among the fastest growing. The U.S. Bureau of Labor Statistics reports that there were 402,500 pharmacy technicians in 2016. The workforce is expected to increase by 12 percent in the next decade.
Pickens Technical College
The Pharmacy Technician Certificate program prepares students to dispense medications under a pharmacist's supervision. Graduates will be eligible to sit the PTCB exam to become Certified Pharmacy Technicians. The program includes 277.5 clock hours or 16.5 credit hours. Areas of study include CPR for professionals, pharmacy law, pharmacy calculations, pharmacology, institutional pharmacy, medical insurance procedures, and drug classification. The morning schedule meets Monday through Friday from 7:50 am to 10:40 am. The evening schedule meets Monday through Friday from 12:05 to 2:55 pm.
Admission criteria:
A high school diploma or GED
The estimated cost of attendance is $3,194 inclusive of tuition, fees, student ID, CPR training, and books.
United College of Health and Beauty
The Pharmacy Technician Program at United College Health and Beauty prepares students with the occupational and training skills to qualify for entry-level positions in various pharmacy operations. The program includes preparation for national certification and may also serve as a starting point for other health care jobs. The curriculum covers 500 hours of the instruction – 260 hours in the classroom and 240 hours in the lab. The lab hours are inclusive of 140 hours of rotation in a community pharmacy. Areas of study include fundamentals of pharmacy technician, basic anatomy and physiology, physiology and medical terminology, infection control, standard precautions, applied pharmacology, pharmacy math, pharmacy practice, pharmaceutical compounding, pharmacy operation and management, institutional pharmacy, and non-prescription drugs and devices.
Tuition for the program is $3,500.
Address: 4219 S Broadway, Englewood, CO 80113
Phone: 303-798-5555
SCL Health Lutheran
SCL Health Lutheran prepares students for a career as a pharmacy technician in less than four months. The hospital-based program is accredited by the American Society of Health-System Pharmacists. By enrolling in the program, students have a unique opportunity to study at the Medical Center where they will come into contact with pharmacists, pharmacy interns, pharmacy residents, and certified pharmacy technicians. SCL offers personalized instruction as each class size is limited to 10 students. No medical training is required for enrollment in the program. The curriculum covers 160 hours of clinical rotation, 96 hours of on-site lab simulation, and 348 hours of online didactic training and evaluation. While the majority of the coursework will be completed online, students must be available at least 8 hours a week – on Fridays – for the lab sessions. The duration of the program is approximately 16 weeks including 4 weeks of clinical rotation.
Admission criteria:
Submit a completed application via mail or mail
Provide a typed 500-word essay on your interest in the profession
A high school diploma or equivalent
Provide background check report
Complete a drug screen
Be prepared to attend labs and clinical rotations
Tuition for the program is $3,000.
Pharmakeia Pre-Pharmaceutical School, LLC
Pharmakeia Pre-Pharmaceutical school provides students with the knowledge and skills to work as competent pharmacy technicians in community, institutional, and specialty pharmacies. The curriculum also includes preparation for success on the
Pharmacy Technician Certification Board (PTCB) exam. Students will benefit from comprehensive but short-term training, personalized instruction, and flexible schedules. Areas of study include I.V. flow rates, dosage calculations, medical terminology, reading and interpreting prescriptions, defining drugs by generic and brand names, dose conversions, billing and reimbursement, dispensing of medications, and drug compounding. Graduates will receive a Pharmacy Technician Certificate. Applications can be submitted online. Applicants must deposit $75 to reserve a place in the class. The deposit is non-refundable but will be applied to the tuition costs. Admission is on a first come, first served basis.
Tuition, registration, books and supplies cost an estimated $800. Options for payment include WIOA tuition assistance funding and payment plans.
PIMA Medical Institute
The pharmacy technician program at PIMA Medical Institute prepares students for entry-level employment as a pharmacy technician. Classroom theory and practical skills development in the areas of drug inventory management, preparing of prescriptions, customer care, sterile products, and aseptic techniques give students the competence and confidence to succeed in a wide variety of pharmacy settings. The duration of the program is 36 weeks for day classes and 41 weeks for evening classes. The curriculum covers a total of 840 contact hours: 350 hours of theory, 250 lab hours, and 240 externship hours. Course topics include anatomy, physiology, and terminology, pharmacy math, inventory maintenance, pharmacology, pharmacy law and ethics, pharmacy technician duties, principles of customer service, pharmacy lab skills, pharmacy computer applications, and fundamentals of chemistry. Students must also complete CPR and First Aid as part of the prep sequence.
Admission criteria:
A high school diploma or GED
Take an entrance exam and pass with the minimum score
Attend an interview prior to acceptance
Pass a criminal background check
Tuition for the program is $14,472. It does not include the cost of books and supplies.
Address: 7475 Dakin Street, Denver, CO 80221
Phone: 800-477-PIMA
Front Range Community College
Front Range Community College provides quality theory and practical training to produce professional pharmacy technicians who are capable of passing the national certification exam for pharmacy technicians. The 29-credit program may be completed in 2 semesters. Students learn how to assist pharmacists with the preparation of prescribed medications, manage customer service issues, and update patient profiles. During the first semester, students will cover three 5-week modules covering sterile and non-sterile compounded products, communication and interpersonal skills, medication safety, pharmacy law and ethics, the use of technology and informatics, and procurement, billing, and reimbursement. In the second semester, students will participate in two 5-week experiential modules in a hospital and community pharmacy.
Admission criteria:
A high school diploma or GED
Obtain TB clearance
Report of up-to-date immunization – Tdap, Hepatitis B, MMR, Varicella, influenza
American Heart Association BLS Provider CPR cards
Pass a background check and drug test
Tuition costs $4,474. Books and supplies cost $2,175.
Address: 3645 West 112th Avenue, Westminster, CO 80031
Phone: (303) 404-5000
Fax: (303) 466-1623
Emily Griffith
The pharmacy technician program at Emily Griffith Technical College prepares students to work in a drug store, long-term care, hospital, and other specialty pharmacies. The program is delivered in a hybrid format combining online coursework with onsite sessions. Course topics include introduction to pharmacy, pharmacy law, communication and professionalism, computer skills for pharmacy technicians, medical insurance procedures, pharmacology, community pharmacies, institutional pharmacy, pharmacy calculations and compounding techniques. After completing the online courses, students will develop clinical skills through practice in a simulated classroom followed by an internship in a real pharmacy setting. The program requires completion of 30 credits. The duration of the program is 3 months.
Admission criteria:
Submit the online application for admission
Apply for financial aid
Take the TABE assessment
Meet with a program advisor
A high school diploma or GED
Copy of criminal background check
Copy of 10-panel drug test
Copy of resume
Copy of immunization record
A signed Technical Standards and Essential Functions document
Tuition for the program is $3,571. Additional costs for books and fees will apply.
Address: 1860 Lincoln Street, Denver, CO 80203
Phone: (720) 423-4700