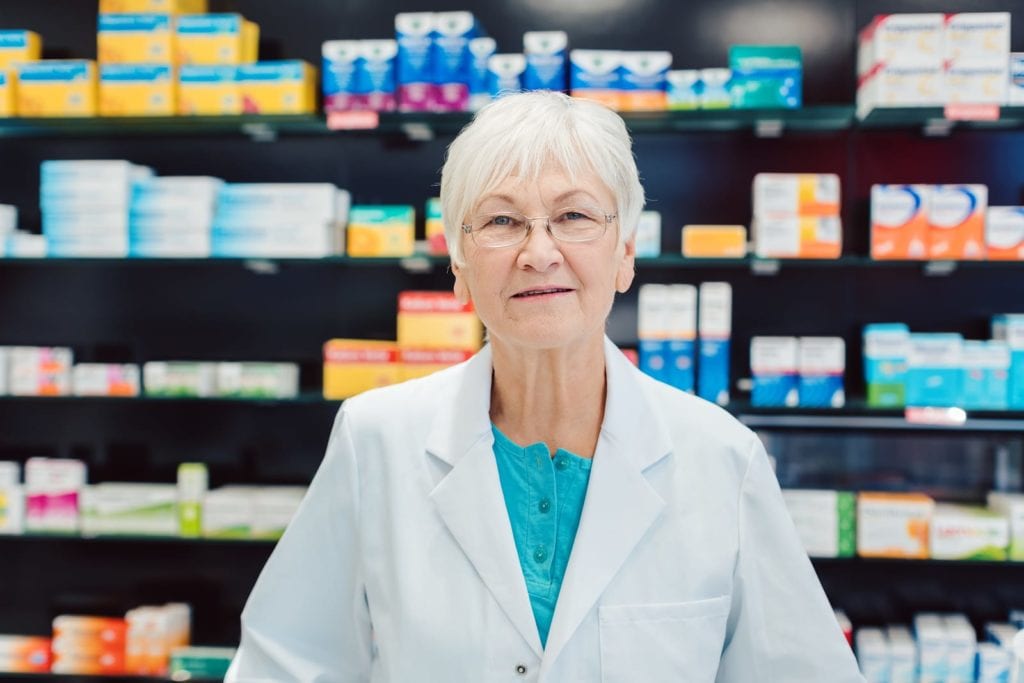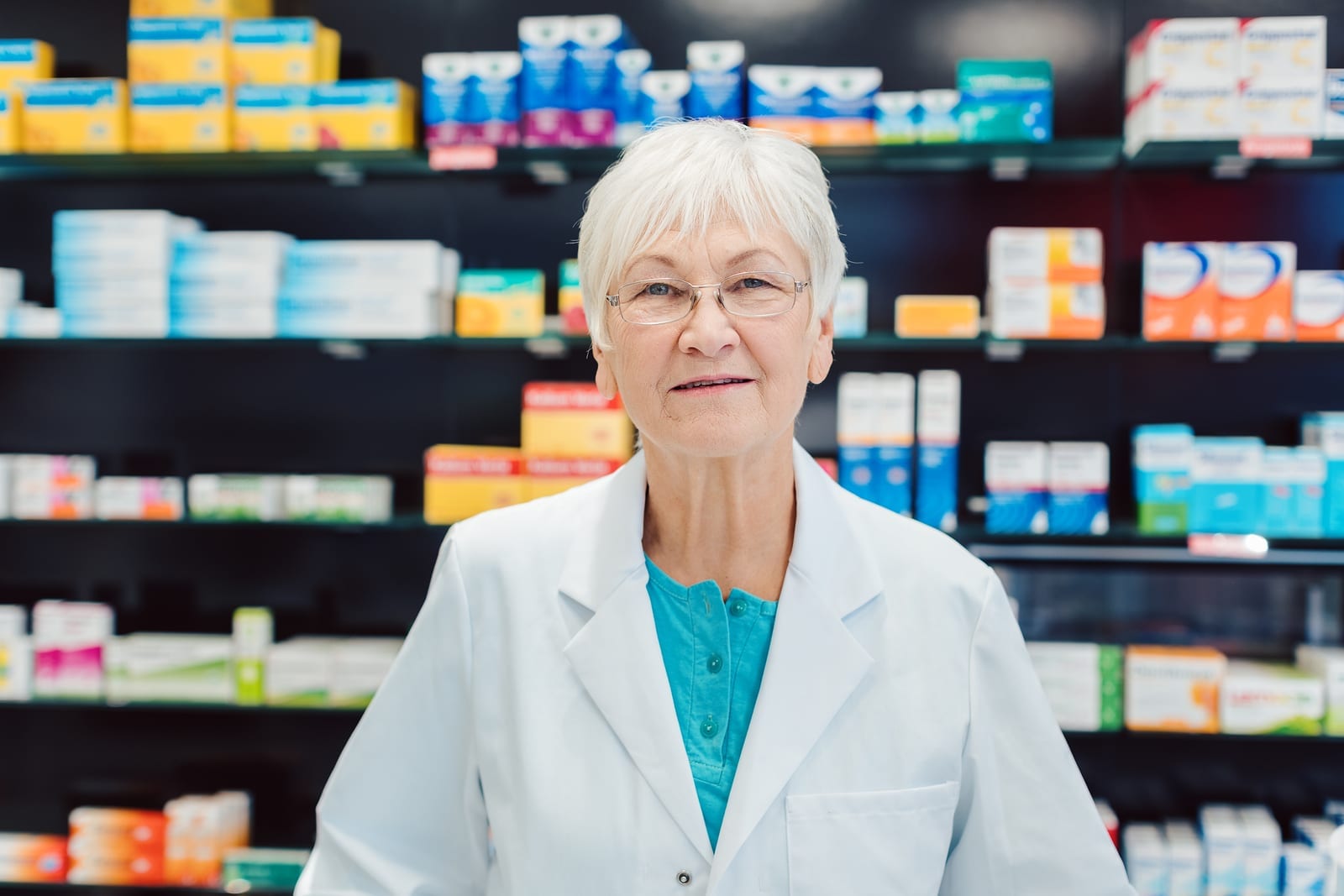 Pharmacy technicians have a vital role in receiving and processing prescription requests under the direction of a licensed pharmacist. Many technicians begin their career at a chain drugstore or grocery, where they earn an entry-level salary of $12 per hour. These positions provide a stepping stone to other opportunities in labs, government offices, outpatient care centers, hospitals, and universities where salaries might average $19.65 per hour. Education, experience, and national certification are the main prerequisites for greater responsibilities and higher wages in the field. Certified pharmacy technicians report higher earnings and better opportunities than non-certified technicians.
Technicians receive and process prescriptions from start to finish. A licensed pharmacist must review the final order before it can be dispensed to the patient. Technicians manage the daily operations of the pharmacy, collect payments, including the preparation of insurance claims, package medications, update inventory, and maintain a clean and safe environment.
Employment for pharmacy technicians is expected to grow 12 percent through 2026. The aging population and greater demand for pharmaceutical services are some reasons for the faster than average growth of pharmacy technician jobs.
Anne Arundel Community College
The pharmacy technician program at Anne Arundel Community College prepares students for success on the Pharmacy Technician Certification Board (PTCB) examination. Program graduates will have the skills and knowledge to work as a pharmacy technician in various pharmacy settings. The program is accredited by both the American Society of Health-System Pharmacists (ASHP) and the Accreditation Council for Pharmacy Education (ACPE). It also operates with full approval from the Maryland Board of Pharmacy. Students will have earned 33 credits by the completion of the program. Instruction will include classroom theory and pharmacy technician rotations at a community and institutional pharmacy. Course topics include Structure and Function of the Human Body, Human Biology 2, Anatomy and Physiology 2, Computing and Information Technology, Medical Terminology, Introduction to Pharmacy and the Health Care System, Pharmacy Law and Ethics, Pharmacy Calculations, Pharmacology for Health Professions, Hospital Pharmacy Practice, Community Pharmacy Practice, Professional Development Seminar, and Pharmacy Practicum. Graduates will be able to maintain professional working relationships with the healthcare team, maintain professional conduct, demonstrate competency in the collection, organization, and evaluation of information under the direction of the pharmacist, and use innovative approaches to implement the content acquired in the pharmacy technician program.
Admission criteria:
Attend a scheduled information session
Submit an application to the program before the stated deadline – incomplete applications will be rejected
Have a high school diploma or equivalency
Take and pass an Arithmetic Placement Test with a score of 27 or higher or complete MAT 005 with a grade C or better
Demonstrate eligibility for ENG 111 or ENG 115 or ENG 121
Must be at least 18 years old by the first day of class
Obtain criminal background clearance
Complete the health examination record
Have current American Heart Association CPR for Health Care Providers certification
Must have a minimum adjusted GPA of 2.0 at AACC
Residents of Arundel County will pay $108 per credit hour. Other expenses for fees, books, and supplies are not included in the cost. Since the program qualifies as a Health Manpower Shortage Tuition Reduction Program, MD residents may qualify for a reduction in tuition.
Website: https://www.aacc.edu/ 
Address: 101 College Parkway, Arnold, MD 21012-1895
Phone: 410-777-AACC (2222)
Fortis College
Upon completion of the 780 hours of theory and practical pharmacy technician training at Fortis College, students will be prepared for national certification through the Pharmacy Technician Certification Board. The 46 quarter credits covered in the curriculum provides a solid foundation that students can build upon by continuing their healthcare education. Instructors with years of experience in the field will not only deliver the course content but will serve as mentors to all students. They will emphasize professional standards, pharmacy terminology, and fundamental operations within community and institutional pharmacies. Multiple practical sessions in real-world pharmacies, such as mail order, retail, community, and compounding pharmacies, will provide opportunities to utilize their theoretical knowledge. Course modules include intravenous admixtures, anatomy and physiology, introduction to health professions, medical terminology specific to the pharmacy, fundamentals of pharmacy, dosage calculations, drug classification systems, pharmacology for technicians, aseptic compounding, career development, PTCB review, and pharmacy externship. Students must be available for the pharmacy technician externship at several community and institutional pharmacies. Students must make arrangements to get to and from the clinical sites. Employment in Maryland requires that all graduates pass the Maryland State Board exam. Day and evening schedules are available to meet the needs of working students. The day class runs for 48 weeks – class times are Monday through Thursday from 9:00 am to 2:00 pm. Evening classes meet from 6:00 pm to 10:00 pm Monday through Thursday.
Admission criteria:
Provide a copy of high school diploma/transcript or GED certificate
Be at least 17 years at the time of application
Submit an application for admission by the deadline
Take and pass the Wonderlic Scholastic Level Exam (SLE) with a score of 13 or above
Make arrangements for payment of the tuition
Obtain a satisfactory background check report
Complete the health requirements for the program
Read and sign the Enrollment Agreement
Tuition costs $15,801. Books and supplies cost an additional $1,157.
Website: https://www.fortis.edu/campuses/maryland/towson/700-york-road-towson-md/pharmacy-technician.aspx
Address: 700 York Road, Towson, MD 21204
Phone: (410) 337-5155
Gandhi Health Career Services
Gandhi Health Career Services prepare students for employment as an entry-level pharmacy technician in just 10 weeks. The comprehensive pharmacy technician curriculum includes 268 contact hours of learning in the classroom and real-world pharmacy. Students will cover the first 72 hours in the classroom and 76 hours in a simulated lab to develop the skills essential for success during the 160-hour pharmacy externship. CPR certification is included in the program. The school has a strict attendance policy. Only students who attend 90 percent or more of the classroom and lab sessions and 100 percent of the schedule pharmacy tech rotations will receive a Pharmacy Technician Certificate. The final grade must be at least 80 percent. The program is offered as a daytime program only. Classes meet Monday through Thursday from 8:00 am to 12:30 pm. The clinical sessions are from 8:00 am to 4:00 pm.
Admission criteria:
Provide a copy of high school diploma/transcript or GED certificate
Be at least 17 years at the time of application
Submit an application for admission
Pass a criminal background check
Complete the health requirements for the program
Tuition for the program is $1,500. The registration fee of $50 must be submitted with the initial application. The cost of the textbook is $100.
Howard Community College
Howard Community College's pharmacy technician program is designed to be completed in less than one year. The program covers 300 hours of instruction – 140 hours theory and 160 hours at the externship sites. Classroom sessions will cover all the theory and skills that will enable students to become a certified pharmacy technician and demonstrate professionalism in the workplace. Students will learn how to manage prescription requests from receipt until it is finally dispensed to the patient. Skills labs will emphasize the importance of accuracy in calculations and performance of duties according to the pharmacy technician scope of practice. The handling of over-the-counter medications, pharmacy inventory, third party billing and other pharmacy operations will also be covered in the classroom. Instructions will use exams, quizzes and lab exercises to assess students' understanding of the content. Students must maintain a minimum grade of 75% and earn a final grade of 75% to participate in the pharmacy externship. Classroom sessions meet Tuesdays and Thursdays from 6:30 pm to 9:45 pm, and Saturdays from 9:00 am to 4:00 pm. Students must commit 20 to 25 hours per week for the pharmacy externship. Partner sites include John Hopkins, Anne Arundel Medical Center, St Agnes Healthcare Hospital, Partners Pharmacy – Long Term Care, CVS, Walgreens, Giant Food Stores, and Target.
Admission criteria:
Must be at least 18 years old
Have a high school diploma or GED
Be able to speak and comprehend English
Demonstrate good communication and interpersonal skills
Have no criminal records based on a Maryland Criminal Justice Information System Background Check
Pass a drug screen
Have basic computer data entry skills
Demonstrate understanding of basic math including algebraic equations
Complete the student health profile
Have medical insurance coverage
Have reliable transport to the pharmacy site
Tuition for the program is $2,995 including $2,308 for required fees.